I love celebrating the achievements of my awesome critique partner, Tracy Krimmer. I mentioned SOMETHING JUST LIKE THIS in my last Book Chat, but it's available now! So if you're looking for a good romance to read this coming weekend, now's the time to pick this one up!
Something Just Like This
By Tracy Krimmer
Genre: Romantic Comedy
Age category: Adult
Release Date: February 14, 2018
Love? Second chances? That crap is for romantics, not realists like Juliette. She has a bad attitude about love and an even worse one when it comes to second chances. And she may dress like an elf for a few weeks out of the year, but that doesn't mean she loves Christmas.

Stability? Purpose? Landon is surfing a pleasant wave of both until he's fired. Devastating news from his sister certainly doesn't help. At least he has the holidays to look forward to.

When Landon shows up at the mall and Juliette prevents a disaster, he can't stop thinking about that sweet elf. Juliette doesn't believe in the spirit of Christmas, but she can't help but wonder why Landon was in her line that day. Could Landon deserve one of those second chances she's so unwilling to give?
You can find Something Just Like This on Goodreads
You can buy Something Just Like This on Amazon for only $2.99 through February 15.
It is available to read with Kindle Unlimited.
About the Author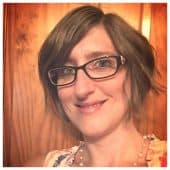 Tracy Krimmer loves coffee, popcorn, Drew Barrymore, and the movie Saving Silverman. She enjoys reading great books (of course) and writing realistic characters for you to enjoy. When she listens to music she prefers the 80s and 90s music she grew up on. In a typical day you'll find her writing at one of her favorite spots–on the couch, at the kitchen table, or at her favorite hometown coffee shop.
You can find and contact Tracy here:
– Website
– Twitter
– Facebook
– Reader Group
– Goodreads
– Amazon
– Bookbub
– Instagram
– Newsletter
Giveaway
There is a tour wide giveaway for the book blitz of Something Just Like This. One winner will win a $10 Amazon Gift card!
For a chance to win, enter the rafflecopter below:
a Rafflecopter giveaway

This is my stop during the book blitz for Something Just Like This by Tracy Krimmer. This book blitz is organized by Lola's Blog Tours. The book blitz runs from 14 till 15 February. Read on for more information about the book, a teaser image and a giveaway for an Amazon gift card! See the tour schedule here.