Today, Graeme Ing is here to talk about his science-fiction action-adventure novel, EMERGENCE.
I asked Graeme, "Why did you write Emergence?"
He replied…
I'm a huge fan of books where things are not what they seem. As you read on, revelations are unveiled like layers of an onion. At each step, I like to guess my theory of the ending. I'm often wrong, but it's exciting to see how each revelation or discovery reshapes my theory. That's why I wrote this book – for readers who like to go, "I think THIS is happening… oh no, I bet it's THIS… omg so THAT's what is really happening."
Funny that I also sometimes have no idea what will happen in my own books! So I love to be surprised by books I'm reading for fun as well. :)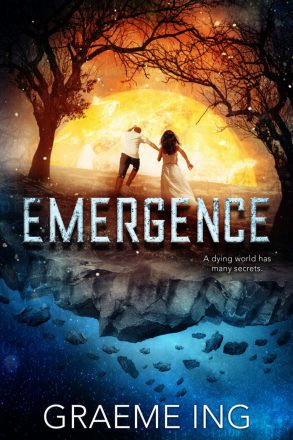 A dying world has many secrets.
Porl's world is dying. Crops fail. Birds fall from the sky. Is this a repeat of the Cataclysm that decimated the Ancients' world a thousand years ago?
Porl loves to fix things and is compelled to solve the mystery – and save his people no matter the personal cost. Disobeying the will of the town Elders, Porl uncovers a secret they want hidden. When caught, the Elders banish Porl into the wilderness, alone against the savage Mad-Ones.
As the Mad-Ones hunt him, Porl discovers the world isn't what he believed. The more he learns about the mystical Ancients, the more he unravels an incredible reality he never imagined.
Nothing is what it seems. The harshest truth he uncovers is that in seven days everyone he loves will die. Yet the final secret of the Ancients, on how to save his people, still eludes him…
Check out EMERGENCE on…
Amazon
---
Find Graeme Ing Online
Want to learn more about Graeme Ing? You can find him online here…
http://www.graemeing.com
https://www.facebook.com/GraemeIngAuthor/
https://twitter.com/GraemeIng
https://www.pinterest.com/graemeing/
---
What was the last book you read where the ending surprised you?
Graeme loves books that keep you guessing all the way to the end. What was the last book that did that for you?