It's the last Teaser Tuesday for THE DAYDREAMER DETECTIVE RETURNS A FAVOR!
Relationships can be pretty funny and nebulous things. Sometimes, you meet someone and you click right away with them. You just look at each other and know what the other is thinking. It's kismet from the beginning. Other relationships take a lot longer to develop this rapport. You misread non-verbal signals sent from your partner. They do something out of character because you don't know them well enough yet. Sigh. New relationships can be a minefield of doubts and worries.
So it's a sweet accomplishment when a relationship finally reaches a level where both parties feel comfortable enough to read each other with confidence. When Mei looks across the table at Yasahiro and knows exactly what he's going to do before he does it, she finally feels like their relationship has reached a significant milestone. I loved being able to give them this moment. They had such a rough time in OPENS A TEA SHOP. It was nice to get Mei and Yasahiro to this point, to their level of synchronicity. They certainly deserved it.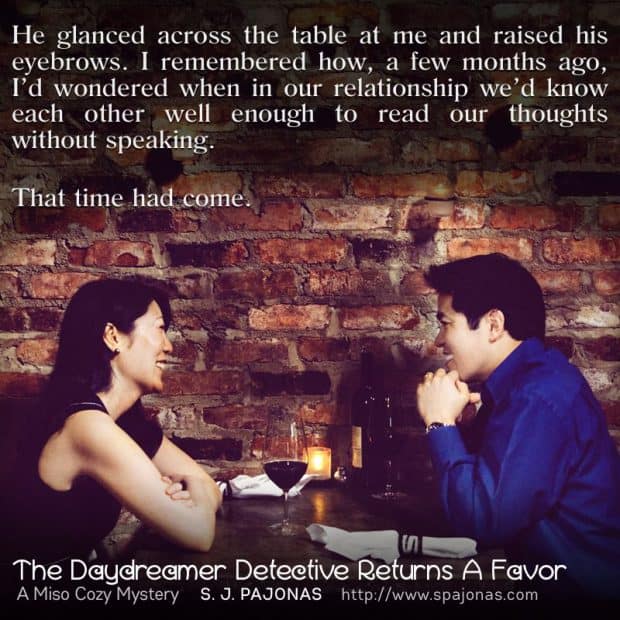 Want to purchase THE DAYDREAMER DETECTIVE RETURNS A FAVOR?
This book is now available on Amazon, iBooks, Nook, Kobo, and Google Play! View the cover, blurb, read an excerpt, and purchase THE DAYDREAMER DETECTIVE RETURNS A FAVOR via my website…
Check out THE DAYDREAMER DETECTIVE RETURNS A FAVOR now!
I hope you enjoy this novel! Please remember to leave a review on Amazon when you're finished reading. xo