Today, Drew Avera is here to talk about his science-fiction novel, BROKEN WORLDS.
I asked Drew, "Why did you write The Alorian Wars Series?"
He replied…
I wrote The Alorian Wars series because I wanted to write something with spaceships. I was deployed in 2015/2016 on the Truman and just read the first four books in The Expanse. It was gritty and thrilling in ways I didn't expect and after four months of not writing, I was itching to get back into it. All the stuff I experienced being away from home and stuck on the open seas went into the first book, Broken Worlds. It's just beneath the skin of the story and it felt good getting it off my chest. I had no idea so many people were going to like it, but I'm glad they do.
I love The Expanse! That series is everything I love about futuristic science fiction. So glad you love it too! I'm sure your experiences come through in your writing. :)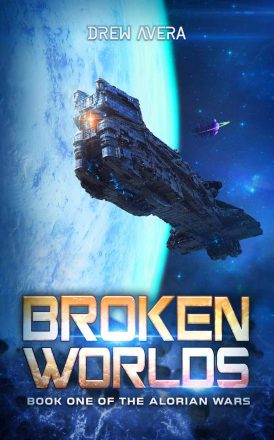 Ensign Brendle Quinn has spent five years loyally serving the Greshian Empire in their relentless quest to dominate the Alorian Galaxy. But, as his ship decimates planet after planet, he finds his sympathies swinging toward their defeated enemies.
Sergeant Anki Paro, a Luthian Marine, has been anxiously awaiting the call to deploy. As the last line of defense against the crushing Greshian forces, she hopes the time has finally come for her world to stand against tyranny. However, as her society prepares for imminent destruction, questions of misplaced loyalties lead Anki to wonder if the world she is trying to save has any real intentions of surviving.
As Brendle's and Anki's worlds collide, they find themselves in an unlikely alliance to try to stop the full might of the Greshian Empire before there's nothing left to fight for.
Broken Worlds is the first book in The Alorian Wars, a military science fiction series for fans of "The Expanse", "Star Trek", and "Old Man's War". If you want a fast-paced space opera adventure, then look no further. The Alorian Wars is here!
Check out BROKEN WORLDS on…
Amazon
---
Find Drew Avera Online
Want to learn more about Drew Avera? You can find him online here…
http://www.drewavera.com
http://www.facebook.com/authordrewavera
http://www.twitter.com/drewavera
http://www.amazon.com/author/drewavera
---
What was the last series you binge-read?
Drew mentions The Expanse here, and I binge-read the first four books of that series as soon as I found it. I love when that happens!