Woo hoo! It's Release Day around here!! THE DAYDREAMER DETECTIVE RETURNS A FAVOR, the fourth book in the Miso Cozy Mysteries Series, is now available. I really enjoyed writing this book even though it took me many months to get it all out and onto my computer. There were a lot of parts I truly struggled with and other parts of this novel just flew from my fingers. It was a labor of love to be sure.
I remember coming up with the premise for this novel sometime in 2016. I wanted to do something different with the cozy formula and focus on a missing persons case, since these cases are very prevalent in Japan. Many people in Japan just disappear, usually by their own design. Something happens to them like they lose a job or fail an exam or break up with a significant other, and the weight of shame is too much to handle, so they go away. This is something that I'm tackling in both this book and my Hikoboshi Series as well.
But in RETURNS A FAVOR, when a famous missing persons case comes up again in Chikata, Mei decides to help solve the mystery at the behest of a new friend. Writing this book, I struggled a lot with my own doubts of my mystery writing skills and straying from the typical cozy mystery formula. In the end, though, I was really happy with the way the mystery turned out, and the new landscape the final act of this book created for more stories to come in this world. I'm excited for you all to read it.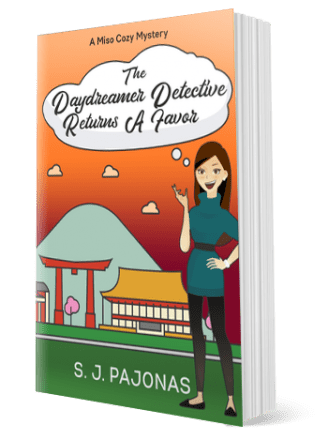 You can now purchase THE DAYDREAMER DETECTIVE RETURNS A FAVOR and start reading this unique cozy mystery book today!
Learn more about and purchase
THE DAYDREAMER DETECTIVE RETURNS A FAVOR
I hope you all enjoy it! Please don't forget to leave a review on Amazon or wherever you happen to purchase THE DAYDREAMER DETECTIVE RETURNS A FAVOR.