It's another Teaser Tuesday for THE DAYDREAMER DETECTIVE RETURNS A FAVOR!
When I was planning out the plot of this book, I didn't realize how much I'd rely on my actual life events to describe the state of the Fukuda house that Mei helps clean up in the first act of this book. Though my own grandparents were not hoarders, they were of the generation that survived the Great Depression and they kept pretty much everything they could. My father and brother spent a good deal of time cleaning out their house when my grandfather passed away and my grandmother moved to an assisted living facility. The stories they told me about what they found in the house, including the liquor collection and my grandfather's graveyard of office supplies, all made it into this book. My mom is one of my many proofreaders, and she left a note in her feedback laughing about the details I had included straight from our shared lives. I love that I can do that in fiction!
As authors, we often hear, "Write what you know," and this was one of those times I was able to draw from real-life experience, even if it meant putting Mei through all work of cleaning out this house!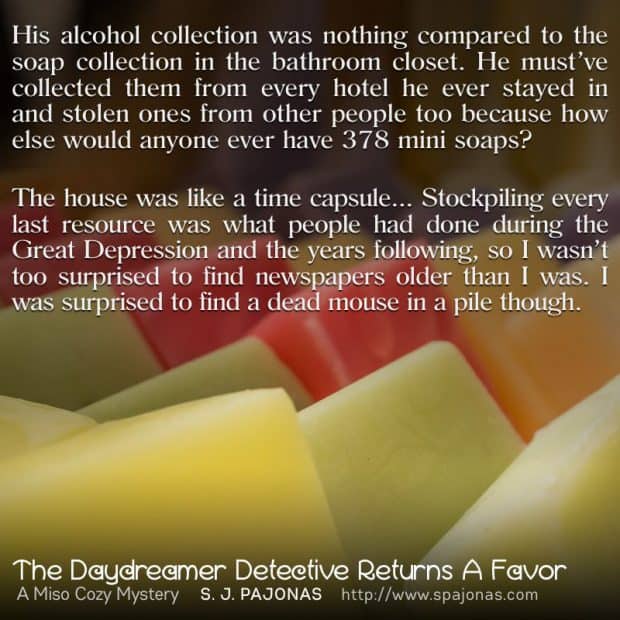 Want to purchase THE DAYDREAMER DETECTIVE RETURNS A FAVOR?
This book will be available on January 17, 2018! View the cover, blurb, read an excerpt, and purchase THE DAYDREAMER DETECTIVE RETURNS A FAVOR via my website…
Check out THE DAYDREAMER DETECTIVE RETURNS A FAVOR now!
This novel is available on Amazon, iBooks, Nook, Kobo, and Google Play! (Google Play is now available for pre-order!)