I'm down sick with a cold and this salmon hot pot would be really awesome right now. Anyone want to drop on by and make it for me? No?
When I think of winter, I think of cold days (which I don't like), snow (which I can't stand), and hot pot meals (which are awesome and make up for everything else). Hot pots, or nabe as they're called in Japan, are the best thing ever. Learn more about nabe in this post on my blog. Really, the best. A bubbling pot of delicious food set right on the table and everyone helps themselves. You don't even have to dish it out! It's convenient, easy, and filling, and if you're lucky, you may even have leftovers for the next day.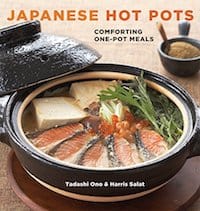 Today, I'm going to share with you my favorite salmon hot pot recipe. It comes to you from this awesome cookbook, JAPANESE HOT POTS, that I highly recommend you pick up. I have it in paperback, but the Kindle edition is pretty cheap, and definitely worth your while.
I've been making this hot pot every winter for the past three winters so I'm going to give you my variation on it since some of the traditional vegetables are hard to find, even around here where I have access to several Asian grocery stores. It is definitely worth it to find the authentic vegetables called for in the cookbook. And if you buy the cookbook, you'll find many more hot pot recipes and even some vegetarian ones too, that you can try. For this hot pot, I had some nice purple potatoes left over from my CSA share. They were the perfect addition to this wintery treat.
Let's get cooking!
Stephanie's Salmon Hot Pot Recipe (Modified)
Dashi Stock
8 cups of water
2 6-inch pieces of kombu. (This is what I use.)
Three large handfuls of shaved bonito. (This is what I use.)
Add the 8 cups of water and the kombu to a large stock pot and let it steep for 30 minutes. Placed the stock pot over medium heat and bring it to a boil. Remove the kombu. Add the three large handfuls of bonito and bring to boil. Decrease heat and let simmer for five minutes. Remove any scum from the surface. Turn off the heat and let steep for 15 minutes. Strain through a fine mesh strainer with a paper towel to catch any smaller bits of bonito. Discard flakes after using.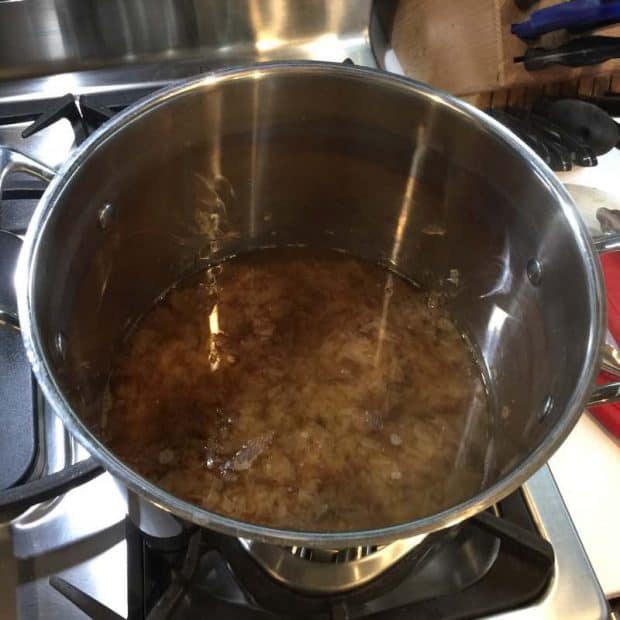 Salmon Hot Pot
4 cups dashi
1/2 cup white miso
1/4 cup mirin
1 medium Spanish onion, cut crosswise into thick slices
1/4 small head of Napa cabbage (approx 1/2 pound), cut into bite sized pieces
2 medium yukon gold or yellow boiling potatoes, peeled and cut into 1/4-inch thick slices
3 carrots, peeled and cut into 1-inch thick slices
1/2 package firm tofu, cut into 4 pieces. (I use the Nasoya brand. You can get whatever you like.)
2 ounces of harusame (clear rice noodles), soaked in water 15 minutes. (These are a nice substitute.)
2 leeks, chopped into 1/2 thick slices
6 ounces variety of mushrooms, sliced. Shiitake, oyster, enoki, baby bella are all good choices.
1 pound salmon fillet, halved lengthwise and cut into 1/2 inch thick pieces
2 cups spinach or chopped kale
1 tablespoon salmon roe (optional)
Prepare broth by combining dashi, white miso, and mirin in a separate bowl. Whisk together and set aside.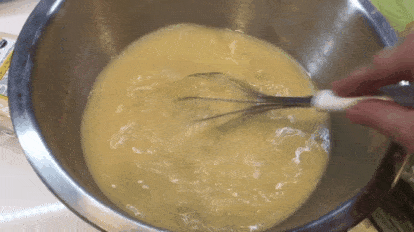 I use my Le Creuset Enameled Cast-Iron 5-1/2-Quart Round French (Dutch) Oven. Whatever you use, don't go smaller than that. Place the onion slices, potatoes, carrots, and cabbage at the bottom of the pot. Pour in the reserved broth. Cover and bring to a boil over high heat. Decrease heat to medium and simmer for 3 minutes.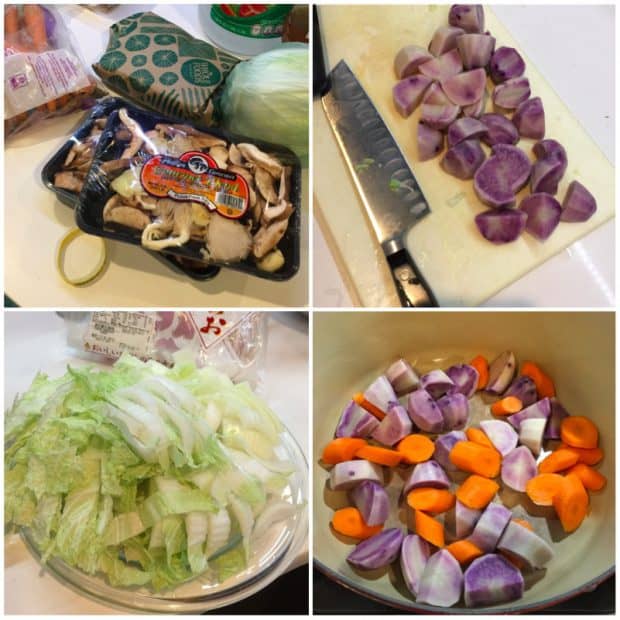 Uncover pot. Place the tofu, harusame, leeks, and mushrooms in little separate neat bunches on top of the other ingredients. Cover the pot and simmer for 5 more minutes.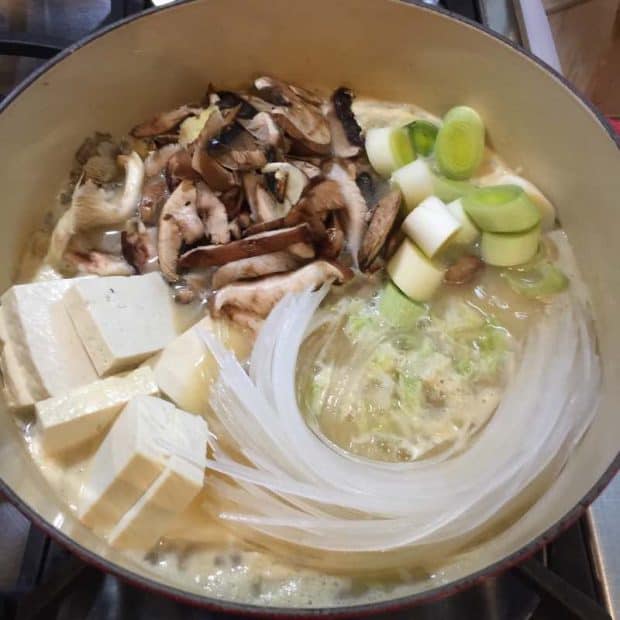 Uncover pot and arrange salmon slices on top of the other ingredients. Cover and simmer until salmon is cooked through, about 5 minutes more. As the fish cooks, press it down into the soup with chopsticks so they heat through evenly.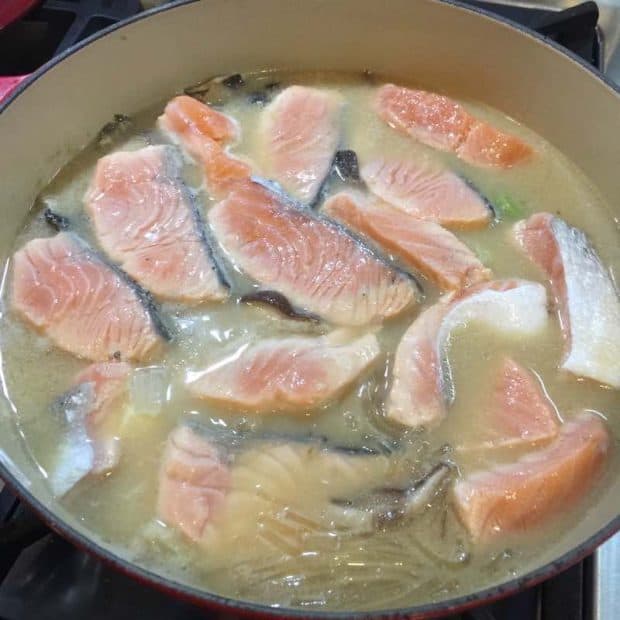 Add the spinach or kale, cover, and simmer for 2 more minutes. Garnish with optional salmon roe.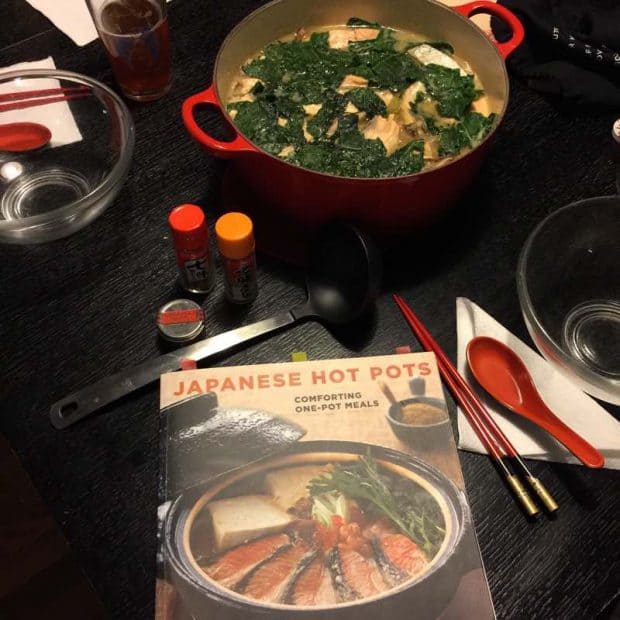 Transfer the pot to the dining room table being careful not to scorch your table or your hands. Pot will be VERY hot. I put down a towel and then two trivets to keep mine from burning the table. Serve ingredients together in small bowls.
Optional side dish: white rice.
If you have leftovers the next day, I have a suggestion for you. We like to boil up some soba noodles (buckwheat noodles), add them to re-heated hot pot soup, and have it for lunch. It's delicious!
I hope you enjoy your hot pot! I'm already hungry and wanting another one right now. :)
Let me know in the comments if you decide to make your own!