I'm excited to finally be publishing OZONI AND ONSENS for the wide world to see! I really enjoyed writing this little novella that puts Mei to the test during a turbulent time in her early relationship with Yasahiro.
As I've said in previous posts about this novella, this is meant to be read between THE DAYDREAMER DETECTIVE BRAVES THE WINTER and THE DAYDREAMER DETECTIVE OPENS A TEA SHOP. It's not really a mystery, but it does have a look into the traditions of New Year's and the elderly population of Japan. I saw one blogger recently give it a poor review because she had never read any other book in the series. Well, duh. No wonder it made no sense for you. Sigh. It really is important to read blurbs.
Anyway, if you were on my mailing list prior to November, it's possible you already have this book and read it. If so, I would love to get some reviews of this novella on Amazon.
Please take a minute to go to Amazon (this link will take you directly to the review page) and REVIEW OZONI AND ONSENS.
This was my first time writing an interstitial novella for a series. It's something I've always wanted to do, but never had the guts to in the past. It was good to hash out events that occurred between the books, and it gave me plenty of material to use going forward with the series. I hope you enjoy it!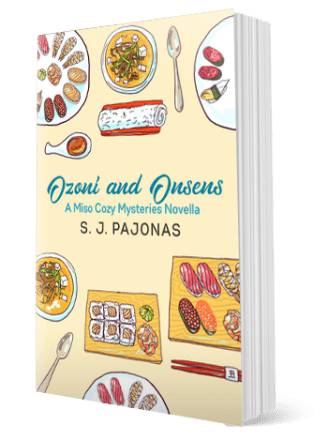 Want to purchase OZONI AND ONSENS?
View the cover, blurb, and purchase OZONI AND ONSENS via my website…
Check out OZONI AND ONSENS now!
This novella is available on Amazon, iBooks, Nook, Kobo and Google Play.