*clears throat* I'm trying out a new image format for my posts. We'll see if I like it, but it's time to get rid of the Thirsty Soft font, since EVERYONE uses it now.
So, if you've been following along on Facebook, I'm participating in NaNoWriMo once again. Here's my Facebook Page where I update about my progress every day. NaNoWriMo is National Novel Writing Month, and during the month of November, writers endeavor to write a 50k novel from November 1st through to the 30th. Now, most of you know my work. Never have I ever written a 50k novel. Mine are almost all 80,000 to 110,000 words, so basically, I try to write 50k of A NOVEL during NaNoWriMo and call it the challenge complete. Then I spend most of December actually finishing up said novel. It works for me, so I can't complain.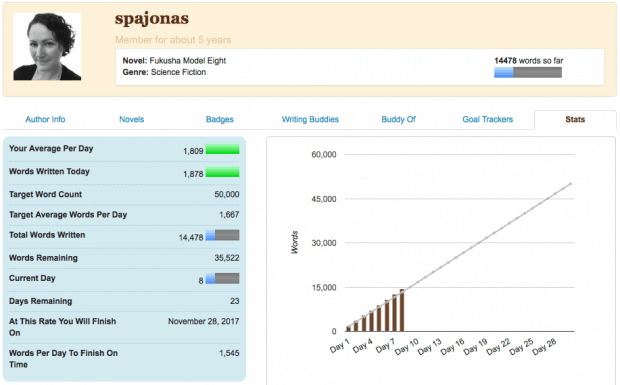 As you can see, I'm already way past the 10k mark which is exciting! At least for me. ;)
This year I did something brave and I named the novel right away. This will be the third novel in the Hikoboshi Series, and I've titled it FUKUSHA MODEL EIGHT. If you've read the first book, and you'll read the second book, you have an idea of what I'll be writing about in this book. I don't have many readers for this series yet (as evidenced by the single digit pre-order numbers for Book 2) but I feel confident you'll love this book and series if you pick it up!
So far the writing is going well. I'm imagining out the path of the story and I can see where it's going and where it'll end. This is always the toughest part for me. Most times, I only have an idea of what I want to write before I write it. I very rarely have an actual plan or plot when I sit down to type. I feel good that the story is talking to me and telling me where to go.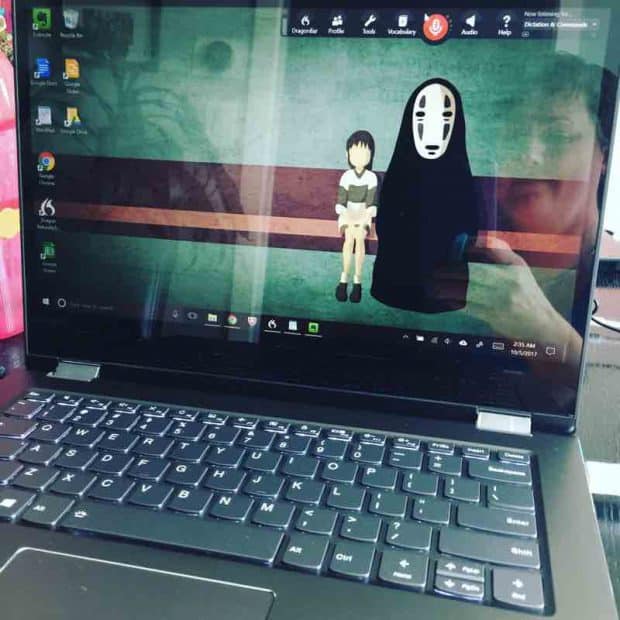 I'm also using my new Dragon machine a lot. I bought a new PC last month, a Lenovo Flex 5, and I'm running Dragon on it and that's about it. No email. No entertainment. Not even Office. Just me, Dragon, Wordpad, and Google Drive. I get in a lot of my words in dictation (while knitting!) and then I finish up with typing at the end of the day. I really like this process because it gives my hands a break when they really need them. I almost exclusively typed THE DAYDREAMER DETECTIVE RETURNS A FAVOR and it was rough on my hands. I knew I needed to upgrade my Dragon before I started NaNoWriMo.
Why do I participate in NaNoWriMo if I write all year round? I've seen a lot of elitist talk amongst full-time authors on Facebook poo-pooing NaNoWriMo, and they all need to take several seats. NaNoWriMo is a time for authors to engage with others and continue to hone their craft. This is a very lonely profession. Many of us work by ourselves for long periods of time and the only interaction we have is with our family and in-real-life friends. By getting into the spirit of NaNoWriMo and finding the fun in writing, it helps energize us for keeping that habit going all year round. This may be a job, but it doesn't have to be a slog. It SHOULD be fun! Whenever I participate in NaNoWriMo, I meet new authors, learn new techniques, and feel energized for conquering even more in this business. There is nothing wrong with NaNoWriMo. If you ever want to do it yourself, whether you're a full-time author or hobbyist, I say GO FOR IT.