It's time to start Teaser Tuesday again, this time for CHAOS IN KADOMA WARD, Book 2 of the Hikoboshi Series! I love making teasers, so this is one of my favorite features of the blog. :)
One of the things I knew I would have to do in second book was to focus more on Rin, from Yumi's point of view. He's her keeper and in charge of her well-being at the behest of Buichi Tamura, CEO of Aka Matsuba. She's an independent woman and not used to having someone watch over her, so suddenly having to live in his apartment, eat at his table, and ask for his help to find a job is a new concept for her, one she's not enthused about. But her curious, journalistic nature is always on and ready to go. She not only takes in the world around her, but also all of Rin's quirks.
Rin's not handsome in the strictest sense of the word. Everyone on Hikari values good looks, and he has a scar around his head and a crooked smile. Not exactly an Adonis. The power he holds in his position, though, is enough to make people move mountains and take him seriously. But even when Yumi points this out to him, he just shrugs his shoulders. "It's the way it is." Well, Yumi has a lot to say about that…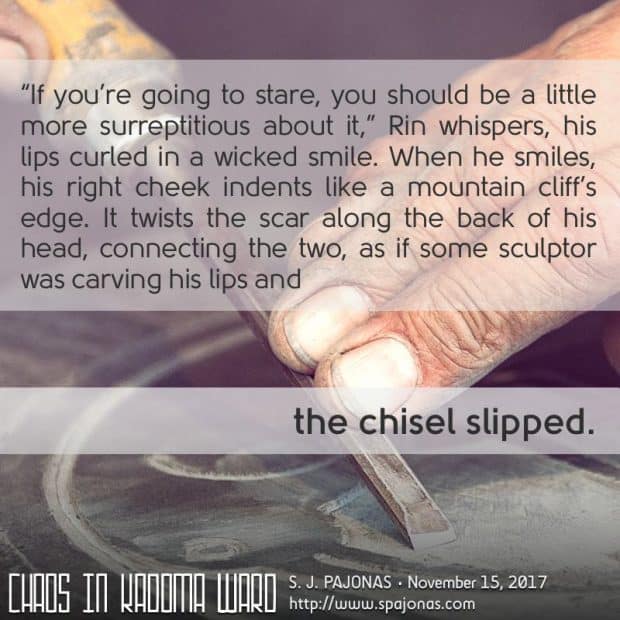 Want to pre-order CHAOS IN KADOMA WARD?
View the cover, blurb, read an excerpt, and purchase CHAOS IN KADOMA WARD via my website…
Check out CHAOS IN KADOMA WARD now!
This novel will be available on November 15, 2017 on Amazon.com and in Kindle Unlimited.