Today is the cover reveal for my upcoming sci-fi novel, CRASH LAND ON KURAI! This series, The Hikoboshi Series, is a space opera, action adventure series, and it's a spin-off of my Nogiku Series. The main character in this series, Yumi Minamoto, is the daughter of Kentaro and Namika from the Nogiku Series, and she's a rash and brash journalist. She's made some bad decisions, and this trip to Hikoboshi is her chance to make up for a lot of what she's done wrong. It's a make or break moment for her.
I started writing this book last November during NaNoWriMo. It's been through a few revisions and I've written the second book in the series too, which helped me refine this book. I'm so looking forward to writing and publishing this whole series. There's a lot in this world to uncover, plenty of places to go.
Let's get to the cover! CRASH LAND ON KURAI was designed by Najla Qamber of Najla Qamber Designs. I love Najla. We work together really well. I told her what I wanted and within a revision we had exactly what you see here. She also designed the cover for Book 2, which I already have and love.
Big thanks goes to Lola from Lola's Blog Tours who organized a cover reveal for today. I'm so grateful for her help throughout the years I've been published. I couldn't do these things without her.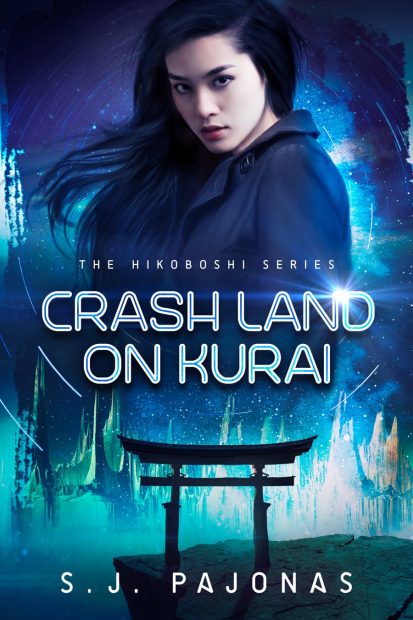 Yumi Minamoto has the shortest fuse on the ship. She's just whipped a bully and been confined to quarters, but she's not staying there. A disgraced journalist trying to clear her name, her job is to document the mission to the Hikoboshi system, and she's determined to get it right, despite all the trouble she causes. But when unknown vessels fire on their ship, and Yumi's life pod crash lands on a dying moon, she's separated from her family and friends, and her mission falls to pieces. Now she must navigate the unfamiliar and deadly terrain, deal with a society she doesn't understand, and try to stay alive until rescue comes… if it ever does.

Crash Land on Kurai is the first book in the Hikoboshi Series, an action adventure, space opera series that explores the worlds settled by the Japanese who fled Earth a century ago. Culture, history, technology, and swords clash in a fast-paced future society on the brink of war.
Currently, I do not have any pre-order links ready for this book! I'm holding off a little while waiting to see if some promo clicks into place. Rest assured that as soon as I have links, you'll be among the first to hear about them.
I hope the cover and blurb delight and astound you! :wink: I can't wait for you to read the book!
Want to get a free four-chapter preview right now?
:point_right: You can download a preview right now from Instafreebie! :point_left:
Just click on the link and download your preview right now! Can't wait to hear what you think!