May went by in a blur and I wasn't able to get my Book Chat up before the end of the month. So this one will have a lot of audiobooks!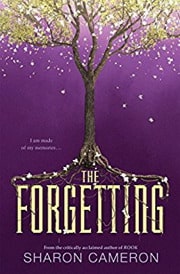 THE FORGETTING by Sharon Cameron
Wow. Just wow. I was totally enthralled by this book. Here's what reading it looked like —
0% to 20% – Huh. This is a really interesting premise for a story. Everyone forgets on a regular 14-year cycle and they don't know why, so they write down the truth in their books and keep the books with them at all times. Lots of great thoughts on "truth" and what it means. I like the heroine a lot. I'll keep reading because I'm intrigued.
20% to 40% – What is going on in this world? I am now REALLY intrigued as to why this girl, Nadia, is so different from everyone else. This guy, Gray, is really interesting too. What's going on with her mom and sister? And wow, there's a lot of great backstory.
40% to 50% – Holy crap. It's just got sci-fi on me AND IT'S AWESOME.
Then I feverishly read from 50% onward until my eyeballs fell out. Not only did I love this story to pieces and then pre-ordered the next one (which I never do, especially for a book over $10), I also learned a lot about storytelling from this one. I realized that sometimes it's better to withhold details from the reader. Readers shouldn't always be spoon-fed all the story elements. I'm going to do more withholding in my own work. I want readers to question everything.
Really excellent book. HIGHLY RECOMMEND.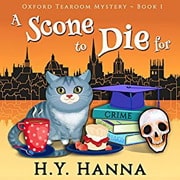 A SCONE TO DIE FOR by H. Y. Hanna
I finished this one at the end of April but it didn't make it into that Book Chat. I really enjoyed this cozy mystery set in England! I loved all the British slang, and the narrator did an excellent job, though I felt that her voice might have been a tad old for the protagonist. Still, the writing was excellent and I'm definitely going to move on with the series.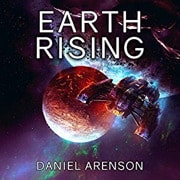 EARTH RISING (Earthrise, Book 3) by Daniel Arenson
I felt like this book went by so quickly! I liked that we finally learn why the Earth is at war against the Scum (no spoilers) and we got to see more of the side characters and see who lives and who dies. I'm still enjoying this series!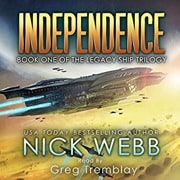 So Nick Webb has also gone by the name of N. D. Webb in the past, though it looks like all of his books are under Nick Webb now. I heard him last year on the Science Fiction and Fantasy Marketing Podcast and I really enjoyed his episode. I thought he sounded super interesting with a cool rocket scientist background. Chris Fox mentioned his book INDEPENDENCE in his WRITE TO MARKET book so I decided to pick it up. I'm so glad I did. I really loved this book! I love that the main character is a woman who's a bad-ass admiral. The alien enemy was one I hadn't seen or thought of before, and there was a great mystery behind everything. I'll definitely be reading on (or listening) in this series!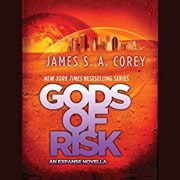 GODS OF RISK: AN EXPANSE NOVELLA by James S. A. Corey
This was a short listen, and while it wasn't anything stunning or eye-opening, I did enjoy it. In this novella, we hear a little bit more about Bobby Draper's family on Mars. Her nephew is cooking up drugs and selling them on the side. I never really understood why he did it, but we hear all about the consequences. He seemed pretty weak and couldn't take care of himself. Bobby eventually stepped in and helped him out, which was the best part of the story.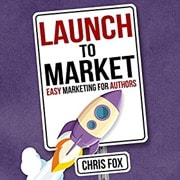 LAUNCH TO MARKET: EASY MARKETING FOR AUTHORS by Chris Fox
If you're already an experienced self-publisher who listens to SP podcasts and is active in the FB groups, you don't need to listen to this book or read it. It was basic stuff that I already knew and I didn't pick up anything new that I would have to try. If you're new to self-publishing, this will be a good primer for you.
And that's it! More to come in next month's Book Chat! :)