It turns out that I started these monthly goals posts a year ago today! I'm so glad I kept them up because, believe it or not, they do motivate me. Putting my goals in writing and being accountable for them helps me stay on top of things.
A Look Back At This Year's Goal
Since it's June, this is a good time to look back at the goals I had for the year. This is The Year I Have Fun and so far so good on that one. I'm enjoying writing what I want to write and not really caring if there's no market for it. I've gotten a few tweets on Twitter and a few emails from people looking forward to my new sci-fi series, so that makes me happy! I'm brainstorming the next Miso Cozy book AND an entirely new series. I expect that 2018 will be the year I have three series going at once, which will be my absolute limit. :) Overall, I'm hitting my goals and I expect to be on track by the end of the year.
What Happened With May's Goals?
Finish Hikoboshi 2. Done! Yes, I finished it, but it's a hot mess. Still, it's done and I have a good idea on how I'm going to fix it.
Finish the Mark Dawson course and set up my Facebook ads. Nope. I watched a few more of the modules, but I was busy working all month.
The usual. More audiobooks, more walking. Both of these went really well! I only took one rest day the whole month and I did listen to two audiobooks this month.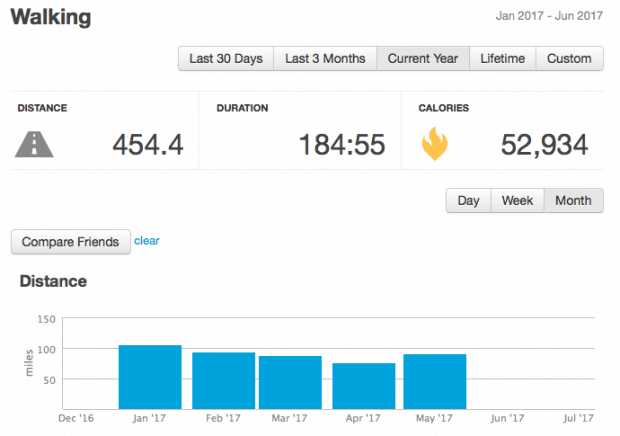 My walking goal for the year is looking good! I walked about the same amount in May as I did in February. And I'm now at 45% complete. In order to be on track, I should have walked 413.7 miles so far for the year, and I've actually walked 454.4! So I'm ahead by about 40 miles.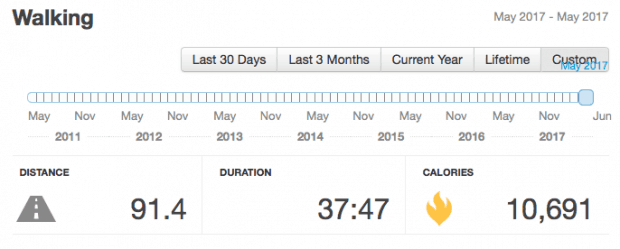 I'd like to thank my treadmill for helping me get a lot of these miles this month!
Finish my knitting project. I finished it! And I started a new one too. If you didn't see the photos of it done, you can check out Neon Beast here.
Finish reading one ebook. Yes! I did finish reading a book this past month. I'll post about it in the Book Chat next week.
Business Goals For June
Finish edits of Hikoboshi 1 and get it ready for publication. This will be a tough one and I'm on a tight schedule, but I WILL GET IT DONE.
Cover, blurb, and title reveal of Hikoboshi 1. I will be revealing the title and blurb this weekend when the cover reveal sign-up goes live. Cover reveal will be on June 16th, my kids' last day of school.
Make six teasers for Hikoboshi 1. I always think this is going to be hard and then it's just fun.
Get all book blitz materials to Lola by June 14th. This is a hard deadline!
If I have anything left in me, brainstorm more for Daydreamer 4. Daydreamer 4 has already been started but I need more foe this book.
Personal Goals For June
Knit in the evenings. I enjoyed knitting this past month and finishing my project. I started a new project and I'd like to keep going with it.
More walking, reading, and audiobooks. A standard goal for me every month.
Sit outside more. I need to get away from my computer more and sit outside. It's bad for my eyes to be in front of my computer all day.
Go on vacation! We have a vacation planned for later this month! So we'll see how many of these goals I hit. Most everything is due before we leave.