April was an interesting month for reading. I was sick in the earlier part of the month, and then came Spring Break which is always a time for picking up a good book.
PIRATE NEMESIS by Carysa Locke
After scrolling through my kindle for an hour while I was running a fever, I alighted on this gem from Carysa Locke. I read the prequel to this last year and enjoyed it, but always felt like something was missing. THIS is what was missing. I was so enthralled by this story, by Mercy and her history, and the reason why these space pirates were the way they were. It was one of those rare times where I could see how the author was setting everything up, and I totally didn't care. Huzzah! It thrilled my inner editor because it was done so well. I super enjoyed this, didn't want to put it down, and was bummed when it ended. The next book will be out soon, and I will gobble it up like candy, for sure. Super love!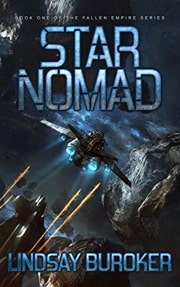 Before picking up STAR NOMAD to read after reading PIRATE NEMESIS, I went through four different books that I just could not get into. It was so frustrating! Finally, I said, "Ugh. Just choose something from an author you know and like!" So I went with Lindsay Buroker. I loved STAR NOMAD! And I'm eager to read the rest of the series in the near future. I loved the adventure part of the book, the unknown world I was heading into. I'm curious about Leonidas, Alisa, Beck, Yumi, and what's going on with Alisa's daughter, Jelena, and what we can look forward to on Perun. There was a curious lack of contractions in the descriptive part of the story, which I now attribute to anyone who dictates. I often have to edit contractions back into my own work. I tried to just ignore my brain correcting them. Lol. This is a strong first book in a series, and perfect for those that are looking for something to binge read. The whole series is out with 9 books, and now there's a spin-off series as well.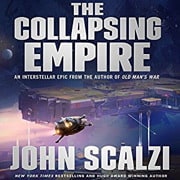 THE COLLAPSING EMPIRE by John Scalzi
I ignored all of my podcasts so that I could just listen to this book in all my spare time. I had gone into the book knowing that Scalzi (who is one of my top favorite authors) borrowed on some of the themes in the Foundation series, another favorite of mine. But honestly, I barely saw the connection. I definitely see the influence of the themes of a large galactic empire on the verge of collapse, but that was about it. Scalzi took his own spin on everything with the usual delight. I loved the travel system "The Flow" and how everything about The Flow was characterized by river or ocean terminology. It made it easy to understand and relate to. The system of families controlling everything was believable and rich for drama. I loved the creative cursing coming out of Wil Wheaton's mouth. It delighted me to no end. Also, I'm tired of people who are angry with Scalzi for being "woke." It's the future. It's totally believable to think that women and men are equal by then. If you can't wrap your head around that, you need to have a seat. I'm looking forward to the next in this series.
And that's it! I'm currently listening to a cozy mystery that I'm enjoying and I'm auditioning ebooks for my next read (they have to wow me before 10% or I move on.) We'll see what I have next month!