I'm pleased to announce that the third book in my Miso Cozy Mysteries series, THE DAYDREAMER DETECTIVE OPENS A TEA SHOP, is now available! I really enjoyed writing this book, even though the last third of the book was torture to get through. Lol. I remember that even I wasn't sure who the killer was until I got to the end! So hopefully you won't know who it is either. :) (I made sure to drop the right clues in revisions.)
Anyway, if you want to pick up this book, get it for only $2.99 (a dollar off) until March 12th.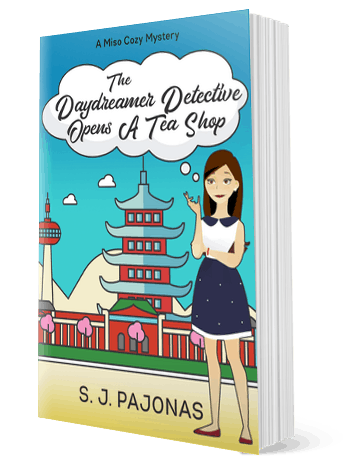 Buy The Daydreamer Detective Opens A Tea Shop
Available on iBooks, Amazon, Kobo, Nook, and more!
(You'll be able to choose your bookstore on the following page, if you have not chosen a default Books2Read store already.)
I'm now using Books2Read links for all book-linking on my website. It's some cool technology that connects you to the store of your choice in the right country! Just the other week someone from Australia asked me if I could start using Australian links so this is my compromise.
Hope you all enjoy the book! Writing on the next book in the series starts next week!