I managed to finish three books since we last had a Book Chat!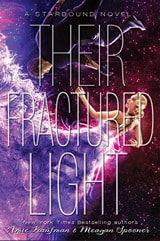 THEIR FRACTURED LIGHT by Amie Kaufman and Meagan Spooner was a good way to end the Starbound series. It's been a year since I read Book 2 in this series, so it was hard to get back into the story. I had a few problems with some of the early plot points in the book, but they were resolved swiftly and then the story moved on to territory I didn't expect. Though I caught a few inconsistencies and the heroine had this knack for making decisions that boggled my mind, I really enjoyed this book. I looked forward to reading it every chance I got. I must say that I'm going to be more careful about buying from traditional publishers and always use the Look Inside. This book was poorly formatted. I have a lot of trouble reading books that are not fully justified, and when the right margin jumps all over the place, it makes my eyes tired. I would almost rather get the book in paperback if that were the case, or not at all. I was disappointed I had paid so much for an ebook that was like this.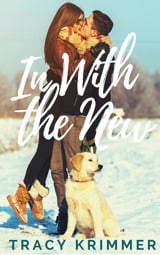 I also read IN WITH THE NEW by Tracy Krimmer. I enjoyed this one and it was perfect to read over the holidays. I liked that, even though the story was short, we saw both sides, alternating chapters between hero and the heroine. The ending was super sweet too. This is available only for a short while through her mailing list, so pick it up today if you're interested!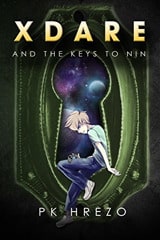 I got an advanced reader copy of X DARE by PK Hrezo in November. I then read it sometime in late November/early December, but I forgot to put it in a Book Chat back then. X DARE was really fun! I like the fact that we follow the protagonist through a world like a video game, and his adventures were thrilling! I just gave this book to my daughter to read as well.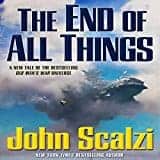 I finished listening to THE END OF ALL THINGS by John Scalzi. It wasn't my favorite of the series, but I still really enjoyed it and looked forward to listening to it each time I put it on. I really wanted to find out how it would all end, and he did a great job of tying everything up. I think I just missed some of my favorite characters.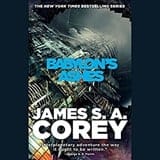 My first audiobook (of the year) for the Audiobook Challenge was BABYLON'S ASHES by James S. A. Corey. I devoured this one! I put off all podcasts so I could just listen to this. God, I love the Expanse series! It's definitely it in my top 10 for all scifi books. This one had me enthralled. I loved seeing what happened to the rings, Naomi's ex, and everyone on The Rocinate. I'm already craving the next book in the series.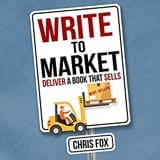 The second book of the challenge was Chris Fox's WRITE TO MARKET: DELIVER A BOOK THAT SELLS. I've been very interested in how writing to market works and what I can do for my next series that will help it sell better. There were some great tips in this book with lots of exercises to do to help get the information you need. Though some of the tips were a little controversial, all in all this is one book every author should read or listen to. I thought listening to it was a great experience, kinda like listening to a podcast. So I highly recommend it. I bought another book in his series to listen to next.
Anyway, lots of books listened and read! It's been a productive time since my last Book Chat! Hope all your reading is going well!