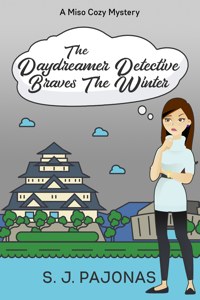 If you live in Japan or are visiting Japan during the winter, you're in for a treat. Pretty much every season in Japan is lovely except midsummer when it's just hot and wet. Spring is hanami season, a time for enjoying the cherry blossoms in bloom. Summer, though hot and oppressive, is full of festivals and cool treats. Fall is perfect for watching the leaves change. And winter is all about the snow and hot springs, hot saké, and trips to tropical locations if skiing is not your thing. In THE DAYDREAMER DETECTIVE BRAVES THE WINTER, Mei doesn't get to vacation and she must indeed brave the winter at home. But still Yasahiro does promise her some time away at an onsen (hot springs resort). We can only hope they have a great time!
If you want to travel in Japan in the winter, here are my top five destinations!
1) Furano for skiing – Furano in Hokkaido boasts some of the best skiing in Japan, with lots of great resorts that are both accommodating of foreigners and families. If you're looking to hit the slopes, either skiing or snowboarding, this is the place to do it. I scoured dozens of blog posts and travel websites and Furano was always at the top of the lists.
2) Sapporo for the Snow Festival – If you're already in Hokkaido and skiing at Furano, then you'll want to attend the Sapporo Snow Festival! This festival is known world-wide for the ice and snow sculptures, and the festival is popular both during the day and at night when they light everything up. One year, they even had this awesome Star Wars ice sculpture. It was really cool. While you're in Sapporo be sure to try their Sapporo-style miso ramen. This is my favorite style of ramen and it includes corn. Yes, corn. http://www.snowfes.com/english/
3) Shirakawa-go for the UNESCO World Heritage houses and village – Shirakawa-go is a quaint and wonderful village at any time of the year, but it comes alive in the winter when the houses are covered with snow and you can see how the thatched roofs work to keep the houses warm and dry. The town also have illumination events every winter where they light up the houses and the surrounding area and there's a mapped path you can walk to see everything. Supposedly, it's breathtaking. I really want to see it for myself someday!
4) Beppu for the onsens – If you want to spend your winter holiday soaking in hot springs, Beppu is the place to go. Located on the southern island of Kyushu, Beppu has eight major geothermal hot springs, sometimes called the 8 Hells of Beppu (sounds enticing right?) With many resorts to choose from, from small intimate family-run hotels to larger, 5-star accommodations, there's something for everyone here. But really, most people go to relax, to sit, to eat, and to sleep. That sounds heavenly to me!

CC BY-SA 3.0, https://commons.wikimedia.org/w/index.php?curid=59802
5) Okinawa for warmth – But I wouldn't blame you if winter is not your thing. I personally am not a fan of cold nights, snow, and no sun, so if you need warmth like I do, you'll want to head to Okinawa. Mostly known for the US military bases and the battles that were fought there during WWII, Okinawa is a tropical island with a rich and diverse history. The more I learn about it, the more it reminds me of Hawaii, with its flowered shirts, surfing culture, white sand beaches and clear blue water. You can go, get a tan, swim in the warm waters, and eat awesome unique food until they need to roll you back onto the plane home.
Japan has so many places and things to see in the winter, you will never be bored!