It looks like I update the Book Chat about once per month, so let's goooooooo!!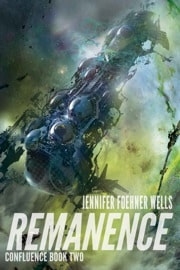 I am back in scifi territory on all fronts! I'm currently reading REMANENCE by Jennifer Foehner Wells which is the second book in the Confluence series. I'm enjoying this book just as much as the first book, FLUENCY. I really love scifi books that explore an alien race and/or planet as long as they keep it believable. Wells does this in spades. I also really love her writing style. It just works for me. I hope to finish this book up soon because I have a Japan-inspired alternate history book I want to read next that I'm also looking forward to.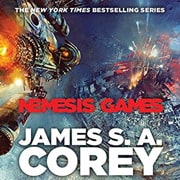 I'm back in the Expanse universe!! I'm currently finishing up listening to NEMESIS GAMES by James S. A. Corey and it is by far my favorite book in the series. I love love love that they split up everyone on the Rocinante and told all their stories. I loved hearing about Naomi, Alex, and Amos all off doing their own things, and all of their pasts. Amos continues to be my absolute favorite character and I love Naomi even more now. She is the very epitome of strong heroines. Like seriously. Do not mess with her. And I loved that the original narrator was back.
One note, I'm not surprised to find this book got lower ratings on Amazon. For some reason, the hard core scifi readers are mostly male that want all the scifi to be without human feelings or emotions. I am so not that kind of reader, so this book turned out to be my favorite of the series. Just goes to show you that reviews are not all they're cracked up to be.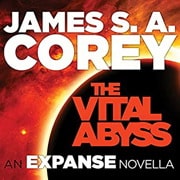 Next up was THE VITAL ABYSS by James S. A. Corey, a companion novel to the Expanse series, which I really enjoyed. It was about the scientists who worked on the protomolecule and what happened to them after they were arrested. I'm pretty sure it will bring some insight into later books in the series, and now I have downloaded other companion novellas from the series and am eagerly looking forward to listening to them too.
And that's it for now! As you can see, I am thoroughly entrenched in some scifi right now, which is a happy place for me to be, especially as I'm writing mystery. :) Hope you're all enjoying your own books right now!