Okay, I need a moment to explain what I'm going through and PLEASE FEEL FREE to chime in on what you think I could try instead. But I'm warning you, I have tried pretty much everything and it's still not working!
Let me start off by stating my current situation. I listen to a lot of podcasts and read a lot of blogs on marketing for authors. My line-up on my Podcasts app looks like this.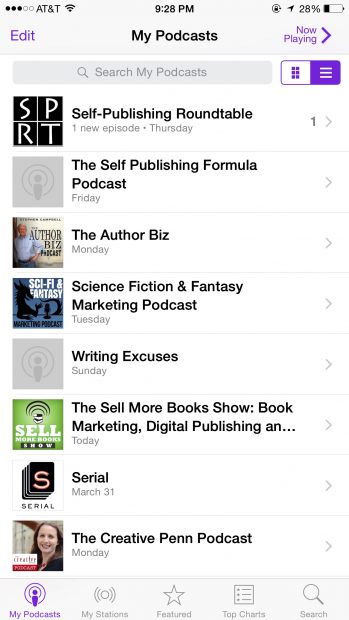 All right? I listen to these EVERY SINGLE WEEK (excepting Serial which I WISH was on all the time), and almost every single week, some author is on these podcasts talking about Facebook ads and how they are the savior of your career. I've taken Mark Dawson's free course. I've listened to his podcasts every week. I've read a million blog posts on how these Facebook ads work. I subscribe to Jon Loomer and have read his ebooks on Facebook ads and the Power Editor. I have done a lot of research.
Unfortunately, I only make about $70-$100 per month (sometimes as low as $30/month) so I don't have the money to pay for Mark Dawson's paid course, but I wonder how effective it would be if I could even sink the money into both the course AND the ads. Right now, I'm not even having enough success in small amounts to give me the confidence to pour hundreds of dollars into it per month.
I write Japan-inspired science fiction and mysteries. When it comes to targeting my ads to either add people to my mailing list or sell books to them, I've tried (for the scifi)…
(Japan OR Japan Popular Culture OR Manga) AND (Science Fiction Movies OR Science Fiction Novels)
(Japan OR Japan Popular Culture OR Manga) AND (Popular Science Fiction Authors like Andy Weir, Hugh Howey, John Scalzi, Octavia Butler, etc.)
Just Japanese Culture
Just Science Fiction
Just Science Fiction Authors
Manga
Different Manga Titles
Manga Authors
Anime Movies
I'm sure there are more I'm forgetting. None of these produce results for me. I've tried different ad images. Different ad copy. Snappy copy. Highlighting good review quotes. Still nothing. Do you have any idea how much money I've put into this venture over the past two years? Hundreds of dollars, and I only have about $1500 per year in money to spend outside of what I make. Not a lot.
Nothing I've done from the mainstream works. I recently made a cool 35 sec video trailer for my Nogiku Series and spent $3/day on serving it on FB. I've heard that videos do the best on Facebook, so I wanted to give it a shot. I modeled my ad after several other successful ads and set it to go. I spent $10 and only got 2 clicks before I turned it off. I'm willing to spend a dollar per click, maybe a little more, but $5? NO.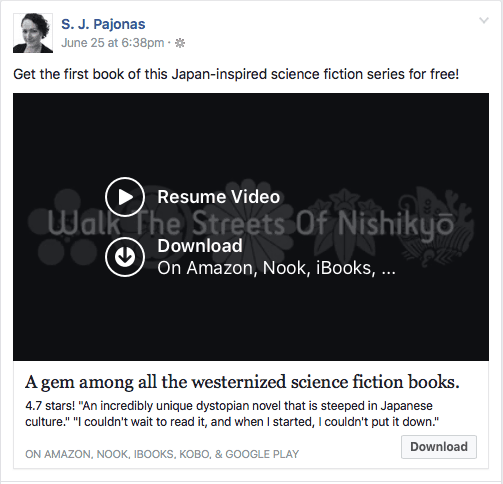 Sigh. Just today I turned off a Facebook ad for a free book I have on offer that only reached 107 people and cost $1.90 (more than a penny per person to reach) and no clicks. I should have let it run for longer, but with all the luck I've had lately, I decided it wasn't worth it.
What to try next? I'm close to giving up on Facebook ads altogether but I feel there may be things I haven't tried yet. Right now I have one semi-successful campaign running every day. It's a big campaign with lots of ads in it for posts on this here website! Posts about Japan get served to people who have already been to SPajonas.com. I gather their visits using a FB pixel on the site. If you've been here before, I serve ads to you to bring you back. Easy enough. And it works. It doesn't sell books, but it reminds you that I'm here and brings you back to read more about Japan. I want to continue those and I add more blog post ads to that every few weeks.
I was listening to the Science Fiction and Fantasy Marketing Podcast today with guest, T. S. Paul, and he mentioned something interesting that he does on his FB Page with ads. He said that he did a meme/image of a cat (I can't find it or else I'd link to it) and served it up to women who like cats and science fiction. It did great, as all things cat or dog related on Facebook do, and he got lots of people to like his page. He then turned around served ads about his books to those people (I'm guessing you can create an audience of those people, though I've not done that yet but you could just serve the ad to people who like your page). I thought that was pretty brilliant.
I kind of want to do something like this too. I'm going to Japan in August, and I want to take LOTS of photos. My current plan is to post these photos to my Page and boost them to people who like Japan and Mysteries or Scifi, and then hope it brings people to my Page and like it. Then I will serve ads to those people who like my Page. I feel that, like my ads that serve to people who have come to my website, if I continue to present myself and my books to people who are already familiar with me, I might have more luck. This is the same successful approach I use with my mailing list. By continually engaging with my list and reminding people I'm here, I have better luck getting people to download or buy my books.
What do you think about my idea? Think I'll have luck? Have any suggestions of what I could try? I would love to hear your thoughts!