Due to the fact I had my cover reveal yesterday, I've moved Teaser Tuesday to Teaser Wednesday, which I admit, does not sound as nice and alliterative as Teaser Tuesday (plus I'd have to make a whole other header image), so we'll be back on Tuesday next week.
Anyway, one of the things I love writing about Mei in THE DAYDREAMER DETECTIVE and THE DAYDREAMER DETECTIVE BRAVES THE WINTER are her tendencies to go off on daydreaming tangents, living out wild ideas and other lives all in her imagination. Sometimes her brain wanders to places that can be self-destructive, like her obsession over Yasahiro's famous ex-fiance, but many times, she dreams of her own success and how she'll achieve it.
In THE DAYDREAMER DETECTIVE BRAVES THE WINTER, Mei is unable to pick back up her love of painting due to the circumstances she's been plunged into, and she spends a great deal of time thinking about what she'd like to do for a career. Like I mentioned in last week's teaser, she gets this idea to work with the elderly and would like to parlay that into a real job with real potential to be a life-long passion.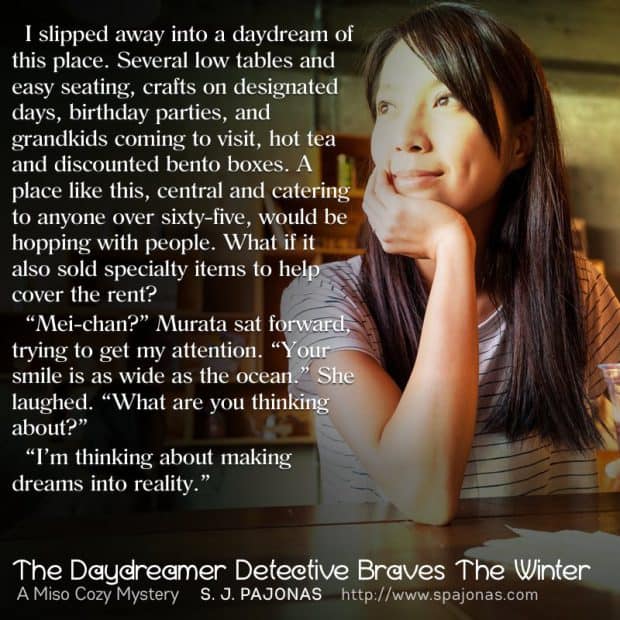 I just love the dreamy look in her eyes. She definitely has a plan! On a side note, this woman looks SO MUCH like my friend Shannon that I swear this is her sister separated at birth. So weird!
THE DAYDREAMER DETECTIVE BRAVES THE WINTER goes on sale on July 7, 2016 and is available for pre-order now!