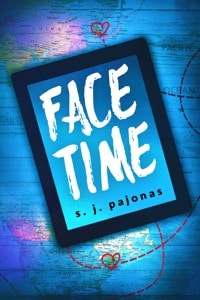 If you're a world traveler then your smartphone is your best traveling friend. With access to thousands of apps and the internet, it's a great tool to have with you when you're in an unfamiliar place. Because FACE TIME is a novel with Apple products in it (I had to make a choice for consistency sake and since I know Macs and iDevices the best, I went with that), here is a list of apps I think should be loaded on your iPhone before you step on the plane. Some of them may surprise you.
1. World Clock – This is an easy one because it's already provided to you in iOS. Open the Clock App, and use the World Clock tab at the bottom to add in all the cities you'll be traveling to. It'll help you get acclimated when you land in a different time zone.
2. Instagram (http://www.instagram.com) – One of the catchiest photo apps on any device, Instagram will help you capture your trip and share it with all of your friends and family. You can post your photos from Instagram to Facebook, Flickr, Twitter, and Tumblr too so no one will miss that great moment when you hiked the Alps or swam with dolphins (Please do not put your iPhone in the water. Okay? You'll regret that.)
3. Google Maps (https://itunes.apple.com/us/app/google-maps/id585027354) – Sorry Apple Maps App, you can't compare to Google Maps. With its built-in GPS and Street View for most cities in the world, it will help you find coffee when you've been up all night at the clubs in Spain or soup dumplings when you've been walking all day in Shanghai.
4. White Noise (http://www.tmsoft.com/iphone-whitenoise.html) – There are several White Noise Apps in the iTunes Store, but I love White Noise by TMSoft. I even bought the paid version because it had so many options. Sometimes you need white noise to block out hotel noise or the place is too quiet and you're used to it noisy. This app will run all night with the iPhone plugged in and has a built-in alarm clock. It can't be beat.
5. Evernote (http://www.evernote.com) – Use Evernote (one of my favorite apps period) to save articles, links, photos, and notes of places you've gone to or would like to go. Start a new notebook in Evernote for each destination and you'll never lose that idea! It also makes a great way to keep a travel journal, if that's your thing. If you're traveling with other people, you can share out notes via email and text to other people on your trip and even create notes that other people can edit if you have a group of people who want to share ideas.
6. Runkeeper (http://www.runkeeper.com) – This may be one of those "huh?" apps but just think about it. Runkeeper has more than 19 million users around the world, two-thirds of which are outside in the United States. (http://mashable.com/2013/05/21/runkeeper-innovation/) It works in many places in the world and is a great way to keep track of where you walked and for how long. It'll store all your hikes, runs, or walks for you, so if days later, you can't remember where you saw that cute shop you wanted to go to in Paris, you can retrace your steps on the map Runkeeper keeps for you. Brilliant.
7. World Explorer (https://itunes.apple.com/us/app/world-explorer-travel-guide/id381581095) – This is a great app with tons of information about over 850,000 places in the world. When you open the app, it'll find stuff around you using Location Services which is always an added bonus. I like that it even had things about my own hometown! So I can imagine that tourist destinations are even more covered.
8. Google Translate (https://itunes.apple.com/us/app/google-translate/id414706506) – This app is invaluable when traveling overseas to countries that don't speak your native language. Type in words you don't understand to have it translate or even have the other person speak into the application and get a translation. My in-laws use this app all the time with good results (English to Bulgarian and vice versa), and it consistently gets 5-star reviews. Use it to help negotiate a deal at the next street festival in Thailand you attend.
9. XE Currency Calculator (http://www.xe.com/apps/iphone/) – If you're a world traveler, making quick purchases at roadside stalls, then you know you can't pay for everything with a credit card. Hard cash is what is needed. You should always know the exchange rates so you can make sure you're getting a good deal and not getting ripped off when someone tries to sell you a sarong for 400 baht on the beach in Koh Samed.
10. Your Travel Site App of Choice – Whether you booked your trip through Expedia, Travelocity, Kayak, or Motels.com, you should have their app on your phone, loaded up with your itinerary for the trip. No need to chase it down anywhere should you drop the printed copies in the porta potties during Rio Carnival. Even if you had the best time of your life, I'm sure you'd like to make it back home again, so that you can rest up, get back to work, and earn money for the next trip!
Hope these apps inspire you to get on a plane and go! It's all Lee has been doing for five years, and all Laura could help but do when she finally meets him in FACE TIME. Where do you plan on going next?