One of the main plots of THE DAYDREAMER DETECTIVE BRAVES THE WINTER is about how Mei will live her life now that she's home and jobless. Sure, she could continue to help her mom on the farm, and that's something she had planned to do. But with the barn destroyed and funds low, plus it's winter, Mei needs to bring in some income or face a winter freezing to death in an uninsulated farmhouse.
In her quest to find paying work, Mei finds jobs helping some elderly men and women in her town. One of her new clients, a fun and bright elderly woman named Murata, needs help cleaning up her apartment. Amongst the many things she has never had time to get rid of are stacked of newspapers she wasn't strong enough to carry down the stairs and recycle.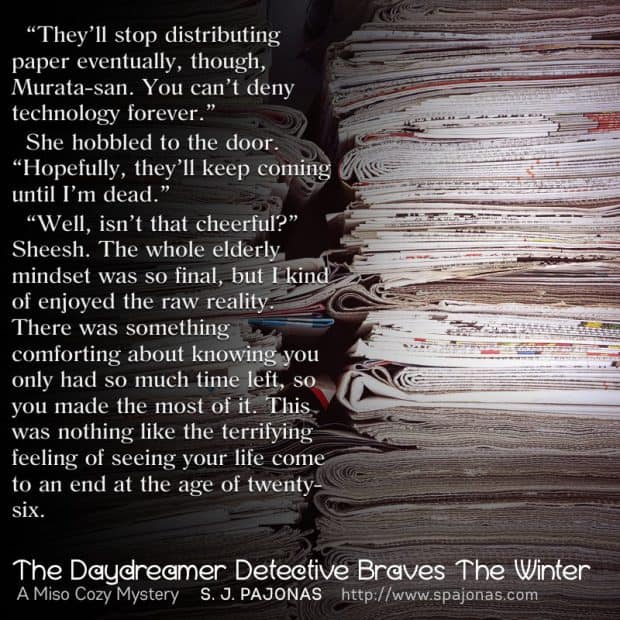 I actually see this a lot with the elderly. They want to have a clean house, someplace that's easy to take care of but don't have the strength or time to take care of it, nor do they always have the money or trust to place in someone else to shuffle off this burden too. Family can only help so much and certainly not much if they live abroad.
The plight of the elderly in Japan has been on my radar for a few years now. The elderly population is growing there, and with family working long hours with very little time off, calling on sons or daughters to help them is a difficult task. It's been an important enough topic for me to spend many hours reading about it, and I decided to weave it into this series as well. I wanted to give Mei something to be passionate about besides art. Hopefully you'll love where her heart leads her in this series!
THE DAYDREAMER DETECTIVE BRAVES THE WINTER goes on sale on July 7, 2016 and is available for pre-order now!