Probably one of the most well-known things about Japan is its national treasure, Mount Fuji, or Fuji-san. Its asymmetrical conical dome has been photographed a billion times at least, and you can sometimes see it on a clear day from Tokyo (it lies about 100km to the southeast of the city), if you're lucky. Fuji-san can be very temperamental though. This venerable mountain often hides behind clouds for hours or days at a time. It's an amazing sight if Fuji-san comes out for your viewing pleasure! You can also see it yourself by climbing the mountain, getting up close and personal. People climb it almost every day, and you don't need to be an experienced mountain climber to try! Fuji-san is also volcanic and has the potential for eruption so keep a close eye on it.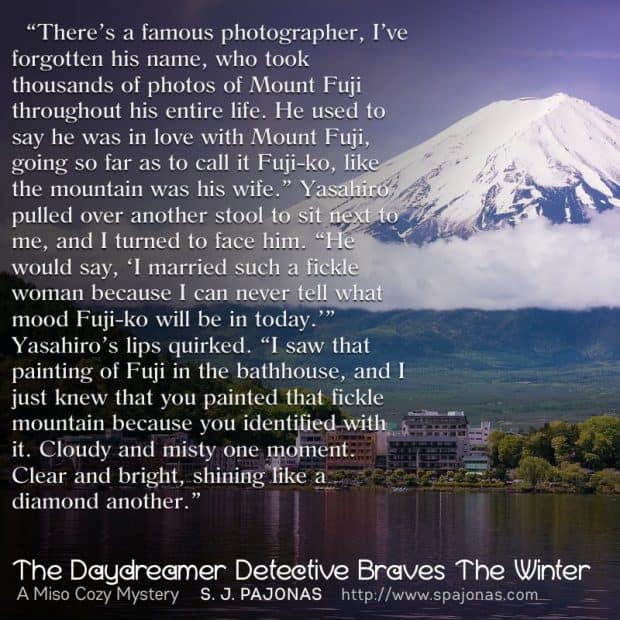 This quote from THE DAYDREAMER DETECTIVE BRAVES THE WINTER is pulled from a documentary I saw once on Mount Fuji and the man who has devoted his whole photography career to capturing this beauty, Yukio Ohyama. I'm paraphrasing and taking some liberties for fiction, but this is mostly true, and it not only shows how Yasahiro feels about Mei, but also how he feels about Japan, though he's spent many years away.
THE DAYDREAMER DETECTIVE BRAVES THE WINTER goes on sale on July 7, 2016 and is available for pre-order now!