Farming and tending to the land is still considered to be a good life in Japan, if it goes well for you. For those that struggled, they left their land in the country and moved into the city looking for more work and a better opportunities. Yep, there's actually a lot of abandoned farm land in Japan, just sitting there, and the governments (both local and national) are trying to figure out what to do about it.
Mei's mother, though, has been both shrewd and fortunate. She wanted to keep the land and farm it herself, plus she took every yen she's ever made and reinvested it (which is going to bite her in the butt in Book 2). Growing up, Mei wanted the modern life of the city, mobile phones, computers, etc. She didn't want to be a farm girl. But here she is, back home, no money and no job, and she's picking sweet potatoes with her mom again. She IS a farm girl, even though it's the last thing she wants.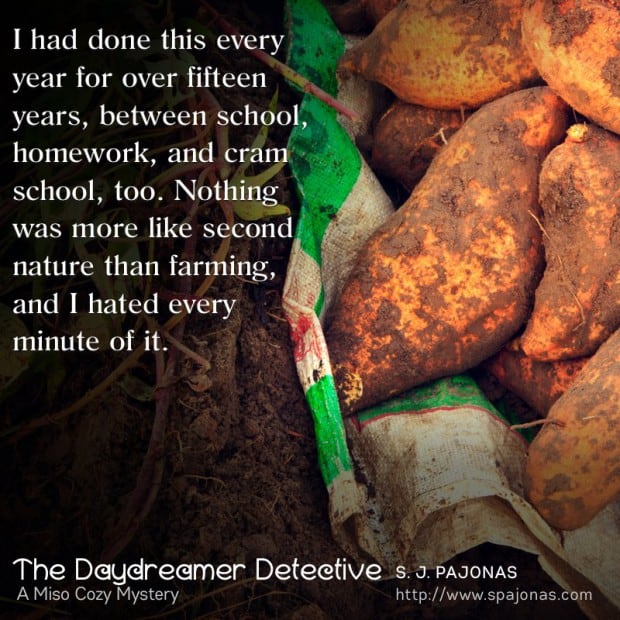 But coming to terms with her past and using that knowledge to work towards a real future is her goal for the whole series. Here she is at the beginning of her journey, hands dirty in the fields and all her dreams dashed, but with each new book we'll watch her grow and find her true calling.
NOTICE: I've decided not to put THE DAYDREAMER DETECTIVE into Kindle Unlimited. It will be available on iBooks, Barnes & Noble, and Kobo as well! B&N link to come! (They are so slow).
THE DAYDREAMER DETECTIVE is now available for pre-order. This cozy mystery series set in Japan will delight and entertain you, for sure!