I just finished writing my first ever cozy mystery book! This is the eighth full-length novel I've ever written, and it's also the smoothest time I've ever had writing any book ever. Really. I think I finally upped my game by learning more about story structure and plotting ahead of time. The plotting helped significantly! It was great to always go back to my spreadsheet and see where I was in the writing process, where I need to get to, and what to write next. I never sat down at the computer and hemmed and hawed about what to write. Sure, the outline was pretty vague at some points with notes like "The Funeral" and nothing else. Lol. But that always got me going on the right track.
Now I'm going to take off Thanksgiving weekend, start plotting out Book 2 of the series, and then get started on writing that on Monday. I'm really hoping I don't burn out before mid-January!
As a little treat, I've made another teaser for this book, so here it is!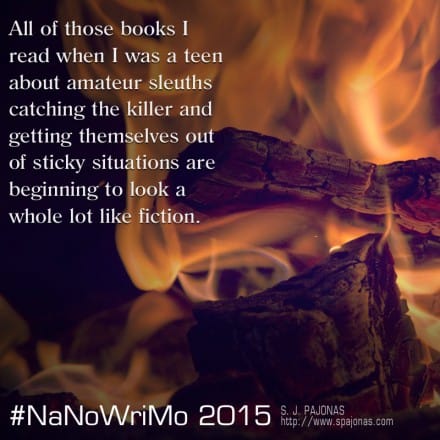 One thing I've noticed about every book I write is that I LOVE LOVE LOVE to poke fun at the genre the book is written in. In the Nogiku Series, we had…
"…Three weeks ago, he decided to stick to his fifth wave slot, and I doubt we would have survived an interstellar, long distance relationship."

"That sounds like something out of sci-fi romance novel."
And in SUMMER HAIKUS, we had…
I had dreams of slipping into his room and his bed but chided myself for being creepy. Who does that shit anyway? People in romance novels maybe.
Lol. Of course, I'm going to poke fun at cozy mysteries too while I'm at it. ;)
I hope you all have a great week and see you back here on Sunday!