In case you missed the announcement via my newsletter (are you subscribed to my newsletter?), REVEALED is ready for pre-order! It's available on Amazon, Barnes & Noble, iBooks, and Kobo through December 18, at which time I will remove it from B&N, iBooks, and Kobo and sell it on Amazon exclusively. It should be in Kindle Unlimited by December 21 for those that read my books via KU.
Writing this book was a labor of love for me. As I went back and relived the events of REMOVED, to see them again through Jiro or Mark's eyes, I remembered all the things that happened in this series. I felt all the highs and the low lows again and again. It was actually really hard to see my characters whole and untouched, knowing what I did to them later in the series. But in the end, it was nice to bring about a conclusion to Mark and Jiro in this little novel. Cathartic in a way.
Anyway, here's the details!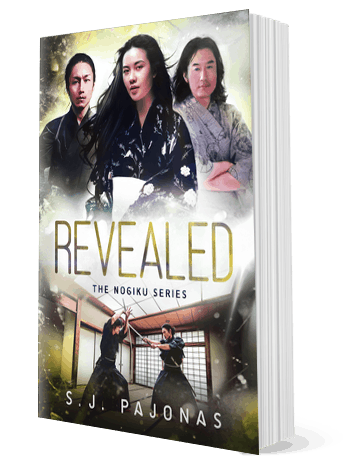 Come back to the Nogiku world with Jiro Itō and Mark Sakai as they live the events of REMOVED from their perspective. Secrets, lies, and cover-ups are all in a day's work for Jiro and Mark, but when Sanaa Griffin enters their world, truths emerge, plans fall by the wayside, and enemies come out of the shadows. How does Mark veer so far off course while training Sanaa? And how does Jiro win back his family's loyalty after losing their trust? If you loved the Nogiku Series, REVEALED will uncover the details behind all the action and reveal the future life of Sanaa and Jiro on Yūsei. Don't miss this companion novel to the four books of The Nogiku Series!

Note: This is a companion novel and should be read after RECLAIMED, Book Four of The Nogiku Series. If you read the REVEALED short stories, Parts 1, 2, and 3 are the first 14 chapters of this book. All the rest (32 chapters total) is brand-new material. This novel is 80,000 words.
I hope you enjoy this last look at the Nogiku Series! Now I'm off to write. :)