Well, it was quite busy around here this week. I started out the week with a lot of bathroom renovation. All Saturday, Sunday, and Monday, I stripped wallpaper from the bathroom walls, scrubbed them, and cleaned them. It was exhausting! My arm felt like it was going to fall off. But in the end, the walls looked really nice. In fact, I was able to paint them this week! I'm really glad that all of the wallpaper is gone. I spent all Friday painting in the bathroom, and I love the green that I chose for the space. We now need to get a plumber in to install the new vanity, but we've already installed the new toilet. The room is really coming together.
I then took off a few days, and I worked on REVEALED edits. I should be done with REVEALED by the end of today! I'm looking forward to being done with it and moving on to my next project. Later this week, I should be able to reveal the cover and post the links for preorders, and I hope to get it out to my ARC team as well while it's being proofread. Whew! Another book done! That makes 3 for the year! I think I like this writing and publishing pace and I hope to sustain the same pace through 2016.
NaNoWriMo is coming up next month, and I've been thinking about participating. Usually each year I have trouble writing during November. There's always a lot going on, and my kids have many days off during the month. But now that I'm giving dictation a real go, I think that I can do well during the big event. In fact, I'm dictating this blog post right now. And I plan on writing a blog post about dictation this coming week. It has taken a lot of practice, but I really like it.
What else happened this week?
Bathroom Before…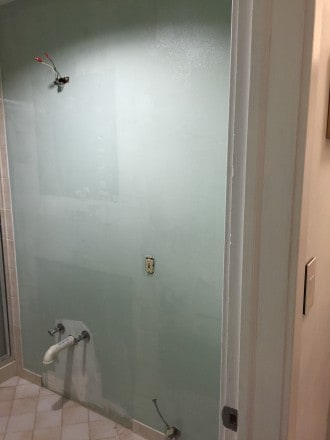 Bathroom After. The paint all dried evenly and looks really nice now!
I waited until after I was done stripping the wallpaper to give myself a new Jamberry manicure. I love this one! So adorable.
The leaves are starting to change around here, and it got down to freezing levels last night which does not make me happy. I miss winter already.
I stayed home this weekend instead of going north to Rhinebeck like I do most years. I spent the day working and then watched my MSU football team win an awesome game. Wooooooo! It was amazing!
Coming up later this week, a Book Chat (hopefully), a post on dictation, and another one on my favorite yoga app. See you all later!