It's been a long time since I've done just a writing update on the blog, so I thought I'd pop in and give one now. I don't have any other content for the blog right now. Summer is winding-down and I'm trying to enjoy every last possible moment. I'm reading but haven't finished anything lately. In fact, I just started a beta read which means it's slowing down my other reading. Lol. So let's talk about writing.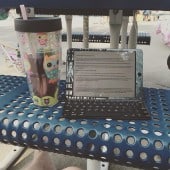 I HAVE BEEN WRITING! Not a lot. Like I said, I'm trying to enjoy summer, so I'm only writing about 800-1000 words per day. Some days more. Some days less. But I've been working on another Kami No Sekai short story and it's almost done! I have one last scene plotted out that I hope to write today, and then I plan on setting it aside for a while.
I like this story a lot. This time the gods in a network of inanimate objects have intervened in a man's life to help him before he kills himself with all his poor eating choices. Lol. It's funny and a little sad at the same time, with a good HEA ending. I think it may be missing something though. I won't know for sure until I get a little distance from it. It's possible I'm just kind of sick of how slow I'm writing it, and when I pick it back up again, I'll love it and think it's awesome.
My plan is to set this story aside for the month of September. I'll let it sit and then hopefully read it again, make some adjustments, send it out to readers, and get it ready for publishing in late October.
What will I be working on in September? I'm glad you asked! I'll be working on REVEALED. Remember that? It's the novella I released in the form of some short stories last year. I'm ready to jump back into the Nogiku world and finish up this novella for everyone. I really enjoy being in that world, enough that I'm thinking about another series in that world with Sanaa's children and a Mark Sakai prequel. Going back there will be fun! I'd like to finish up REVEALED and get it out to you all in November, before Thanksgiving.
And that will probably be all the publishing from me this year. It feels crazy to have the rest of my year planned out! It's only August! During October, November, and December, I plan to write a totally new novel but I'm wavering on which novel I want to start. Right now, I'm leaning towards a novel in a brand-new genre. I have a lot of ideas for this novel already and I think I'd like to give it a go, especially since I have no obligations to any other series right now. It's exciting!
Late next week, my kids start school again, and my days from 8:30 to 2:30 will be free again. I plan to write and exercise a whole lot. My goal is to work as much during the day as possible and save any house cleaning or non-writing-related work for the afternoons when the kids are home. I can't wait!