I'm coming up on the end of my Kindle Select term at Amazon, so I decided to make RICE COOKER REVENGE free for this week! This means you can download and enjoy this quirky and fun short story for no pennies, and get a chance to see what this series is about.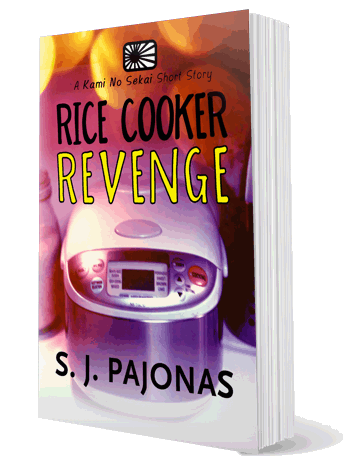 It sits there on the counter, quiet and contemplative. Who knew rice cookers could be so vengeful?
Ryu must decide whether to stay or leave The Chef's kitchen, so he turns to an unlikely ally for help.
Not sure if you want to give this a try? Here are some reviews to get you motivated.
"The main characters (and yes, I consider the rice cooker a character) were likable, and the plot was immediately interesting. It was light, unique, and a nice little story. If you're looking for something different, I highly recommend you check this out! " – Brianna, Biblio Belles
"I loved this little short story about the revengeful Rice Cooker. It is fun and put a smile on my face, it's one of those books that made me happy just because it's such a fun book. Both the Rice Cooker and Ryu are interesting characters and I liked following their story and seeing them become friends. It thought it was fun we got the perspective of the Rice Cooker as well. And I can't wait to read the next short stories in this series!" – Lola, Lola's Reviews
"This was such a great little story. I've read the author's previous work and this was completely different! It was not at all what I expected. It was hilarious and fun, quirky and original. I didn't fully realize that the rice cooker would actually be a main character, but it totally works! Very well executed. If you're looking for a quick, fun read, I highly recommend this one." – Laura Taylor "bookgrl", Amazon Customer