The NEW ADULT SCAVENGER HUNT is over! Thanks to everyone who participated. I'm keeping up the exclusive content from author Emma L. Adams, and my giveaway is still open till 11:59pm April 26! See below for more info.
About the Featured Author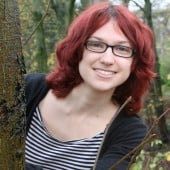 Emma L. Adams spent her childhood creating imaginary worlds to compensate for a disappointingly average reality, so it was probably inevitable that she ended up writing speculative fiction. She was born in Birmingham, UK, which she fled at the first opportunity to study English Literature at Lancaster University. In her three years at Lancaster, she hiked up mountains, skydived in Australia, and endured a traumatic episode involving a swarm of bees in the Costa Rican jungle. She also entertained her creative writing group and baffled her tutors by submitting strange fantasy tales featuring dragons and supernatural monsters to workshops. These included her first publication, a rather bleak dystopian piece, and a disturbing story about a homicidal duck (which she hopes will never see the light of day).
Now a reluctant graduate, Emma refuses to settle down and be normal. When not embarking on wild excursions and writing fantasy novels, she edits and proofreads novels for various publishing houses and reads an improbable number of books. Emma is currently working on the Alliance series, a multiple-universe adult fantasy featuring magic, monsters, cool gadgets and sarcasm. Her upper-YA urban fantasy Darkworld series is published by Curiosity Quills Press.
Website: http://www.emmaladams.com/
Blog: http://throughthegateway.blogspot.co.uk/
Twitter: https://twitter.com/ELAdams12
ADAMANT by Emma L. Adams

Ada Fletcher is twenty-one, keeps a collection of knives in her room, and risks her life on a daily basis, helping refugees from a devastating magical war on her homeworld hide on the low-magic Earth. But when she's taken into custody by the Inter-World Alliance, her unusual magic makes her a prime suspect for a supervisor's suspicious death.

Kay Walker, grandson of the Alliance's founder, expects to spend his first week as an Alliance employee chasing monsters out of the dark Passages between worlds, not solving a murder. But when his supervisor dies in suspicious circumstances, he finds himself in charge of questioning a girl he arrested as a suspect. A girl with secrets that threaten to make both of them into the murderer's next targets.

The last thing Ada wants is to help the infuriating Alliance guard who arrested her, but it soon becomes clear that the Alliance knows too much about Ada's offworld origins. More, in fact, than she knows herself. Now she has to choose between loyalty to her family, and helping the Alliance save the Earth – and the Multiverse – from a deadly enemy.

Adamant is Book 1 in the Alliance series, set in an alternative 21st-century London in which our world is one of many in the Multiverse.
Exclusive Content
Why NA Speculative fiction?
I discovered NA when I was at university. I love YA (and also adult and MG), but I wanted to read about characters my own age, with issues I could relate to as a soon-to-be-graduate with no job and a mounting pile of student debt, facing the prospect of moving back home after three years at university. That said, I'm not the biggest reader of contemporary romance. I've really enjoyed many NA books in the genre, but I grew up reading the Harry Potter series, and fantasy and urban fantasy are always my first choices. When I had difficulty finding NA speculative fiction, my first instinct was to start writing it.
Fast-forward two years. I've written one series about demons and sorcerers at university, and another set in an alternative modern London in which the Multiverse is only one step away. I think there's endless scope for exploring NA themes in speculative fiction, beyond college and university – first jobs, independence, moving out of your parents' home, planning for the future. When I was writing Adamant, it was only natural to pair realism with the more fantastical parts. You're working a part-time job to keep your family's business afloat, but can't help dreaming of running away to an alternative universe where you can zip around on hover boots. You're starting your first job, get insulted by a snarky centaur, and the boss is brutally murdered on the first day. And then there's the monsters.
I love NA, and I'm always thrilled when I find something new in the category. Dragon-taming unpaid interns. Undergraduates who escape deadlines in parallel worlds. New adults piloting spaceships. New adult superheroes. As a young adult, you're dependent on parents or guardians to some degree. As a newly independent adult, you're alone, and it's terrifying. Add in magic and darkness on top of struggling to adapt to that odd thing called "adulting" and you have endless potential for conflict!
Thank you!
Awesome!! I love speculative NA and write it as well! It's great to see it getting more popular. And don't forget to enter the contest for a chance to win a ton of signed books by me, Emma L. Adams, and more!
To enter, you need to know that my lucky book number is
9

.

Add up all the favorite numbers of the authors on Team Red, and you'll have the secret code to enter for the grand prize!
Enter To Win More Prizes Before You Continue!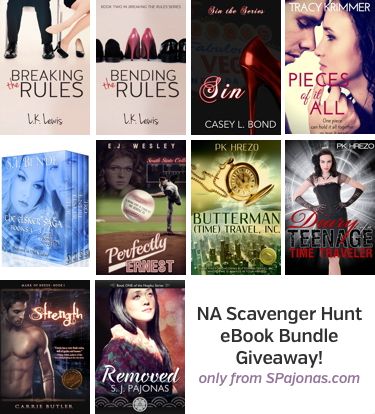 I'm offering an ebook bundle of NA books (both college and non-college-based!) and a $10 Starbucks Gift Card during the NA Scavenger Hunt! You can earn the most points by commenting below and answering the following question: "Since I'm on Team RED, tell me about any non-college-based NA books you've read or want to read!" Be sure to enter using the Rafflecopter below.