I'm really excited and honored that Kitsy Clare has stopped by the blog today to talk about New Adult Contemporary Romance beyond college, a subject very near and dear to my heart. Also, I totally know the Domino's Sugar Factory! What an amazing thing that she's actually been there!
• • • •
New adult romance exploded on the scene a few years after St. Martins Press ran a contest that stated: "Since twenty-somethings are devouring YA, St. Martin's Press is seeking fiction similar to YA that can be published and marketed as adult—a sort of an 'older YA' or 'new adult' fiction." Readers clamored for novels that described the college experience, first full-time jobs, and their first steamy adult romances as people hit their twenties.
NA authors delved deeply into issues such as in Tammara Webber's powerful exploration of abuse in EASY, but the novels were always set in college, the drama often occurring in dorms and fraternity parties.
As the new adult romance genre grows, authors are eager to expand the parameters into new themes and settings outside of college walls and break out of narrow confines that squeeze the genre into limited pigeonholes.
Courtney Lewis, a librarian and blogger, otherwise known as the Sassy Librarian reports on a recent NA panel she attended: "It was suggested that the genre might gain more legitimacy when readers (and librarians and publishers) begin associating it with other genres, broadening the scope of the label." I heartily agree.
Gritty NA romance that deals with more universal survival skills than the limited setting of the dorm scene is popping up all over. One example is J.R. Redmerski's THE EDGE OF NEVER, where the setting is literally the highway. Camryn decides to take a long road trip to reassess the life she's lived thus far. Another is COLLIDE by Gail McHugh, where Emily moves to NYC to be closer to her boyfriend, but ends up working in an Italian restaurant and meeting a new love. A third example is Nikki Turner's PROJECT CHICK, the saga of a young urban single mom.
In writing my first new adult romance, MODEL POSITION, I made sure to stick to the well-oiled structure of the new adult trope and set it in college. Well, I did stray a little; setting it in art school, where no one lived in dorms, but already had their own edgy apartments in Manhattan's East Village. Still, many of the scenes were set in the drawing class.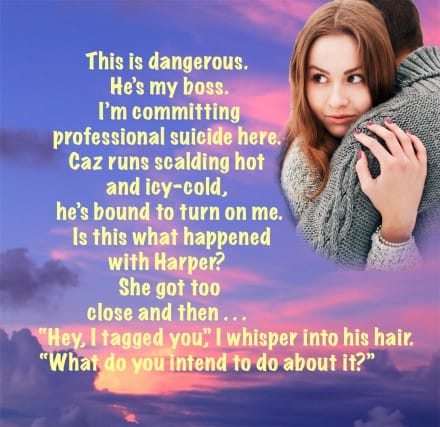 But for the second in my NA Art of Love series, PRIVATE INTERNSHIP, I had a different idea for the setting. Artist Sienna's bad-boy love interest Caz, who she interns for, is a sculptor. He creates monuments and figurines out of sugar. What better setting than the factory building I've been I've been obsessed with for decades: specifically the Domino Sugar Factory in Williamsburg, Brooklyn. In it, the sculptor Caz Mason has tons of sugar to play around with.
You see, I moved right around the corner from that spooky old factory before the neighborhood became a hipster paradise. I recall strolling by it when it was still in business, ever eager to see which huge cargo ship had docked on its East River port. Sometimes the vessels came from Cuba, sometimes from Brazil or even Thailand. I thrilled to the colorful flags flapping on its rigs, and the idea that the boats came from so many exotic, faraway places.
One afternoon, I took my camera and a notebook there and interviewed the night watchman. Upon entering the building, my senses infused with the now infamous burnt sugar scent, and the way the walls were covered in a skim of blackened sugar. The watchman told me stories that raised goosebumps—stories of workers falling into vats and getting boiled alive, and tales of hearing their ghostly sounds as workers worked in the old factory.
Speaking of ghostly and other spectral things, I believe the NA boundaries are now expanding into fantasy and sci-fi. I, for one, am writing a paranormal historical NA romance called The Witch of Cards. Check out my Pinterest board for clues to the book. And judging from the posts on NA Alley, many other authors are venturing into speculative NA romance. Examples are authors such as Carrie Butler and her Mark of Nexus series, Carlyle Labuschagne's Broken series and SJ Pajonas' super-sexy sci-fi Nogiku series. If the NA genre is going to thrive it will have to expand, and I am eager to witness it.
Kitsy Clare/Catherine Stine's Books
ART OF LOVE Box Set: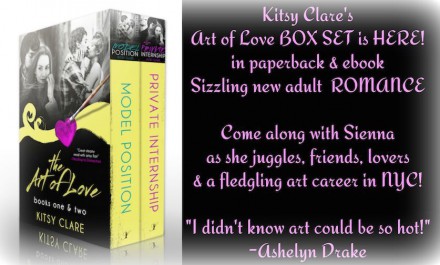 B&N: http://tinyurl.com/nfxdyzg
Amazon UK: http://tinyurl.com/lm8253p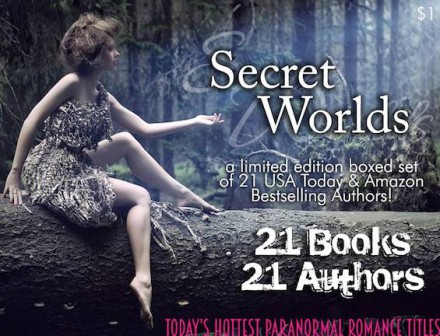 SECRET WORLDS Box Set: (pre-order, launching June 29)

B&N: http://www.barnesandnoble.com/w/books/1121692693?ean=2940151714976
iBook: https://itunes.apple.com/us/book/secret-worlds/id982847409?mt=11
Kobo: https://store.kobobooks.com/en-US/ebook/secret-worlds
About The Author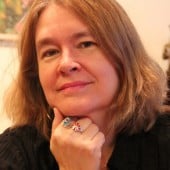 Catherine Stine's novels span the range from futuristic fantasy to paranormal to contemporary. Her futuristic thriller companion novels Fireseed One and Ruby's Fire are indie award winners. Her paranormal-horror YA, Dorianna won Best Horror Book in the Kindle Hub Awards.
She also writes new adult fiction as Kitsy Clare. Her new adult Art of Love series includes Model Position and Private Internship. The series follows artist Sienna, and Kitsy knows this world well, having shown her work in galleries for years. She suspects her love of dark fantasy came from her father reading Edgar Allen Poe to her when she was a child. Presently, she's at work on Witch of the Cards, a paranormal historical set in 1932 about a witch.
On Facebook: https://www.facebook.com/authorkitsyclare
Subscribe to Kitsy's newsletter: http://catherinestine.us6.list-manage.com/subscribe?u=1fe566b1e53f7d3e95b7443e4&id=93554d599e
Twitter: https://twitter.com/crossoverwriter
Pinterest: http://www.pinterest.com/kitsy84557/
Blog: http://catherinestine.blogspot.com/
Website: http://catherinestine.com