Surprise! I said this was going to be tomorrow but this announcement is coming today! First of all, say hello to RECLAIMED's lovely cover.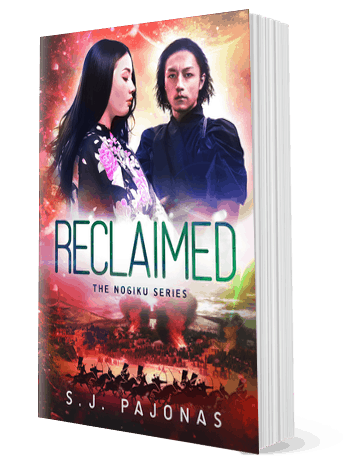 I think the design speaks well to the themes of the final book of the series, and I'm excited to get it before all your eyes today. I thought long and hard about what I wanted for this cover, the colors and the emotions I wanted it to evoke. I :heart: it.
Due to the expediency of Amazon, Kobo, and Draft2Digital, RECLAIMED is now available for pre-order! Besides the second story of the Kami No Sekai series, this is the first true pre-order I've ever done across all vendors. Scribd is coming soon, mainly because I have yet to sell a book there so I don't see the immediate need to get it set up. I expect it to be available there a few weeks before the publish date of MAY 28, 2015. YES. I am getting you this book to you before my promise of "Summer 2015."
To pre-order RECLAIMED, choose your vendor below. RECLAIMED is priced at $2.99, $2 off retail, and will become its regular price of $4.99 on JUNE 5, 2015.
Available May 28, 2015!
Get your copy now at the Pre-order Price Guarantee of $2.99.
I'm a little shocked and dazed at this milestone. I remember writing REMOVED so clearly with a baby at my feet and juggling writing with nap times and bottle feedings. All of my babies are grown up now! And even though this is the end of this story arc, it's still just the beginning of this world and all it has to offer both me and you.
Once again, thanks for being awesome!