Today, I have a little something different on the blog. Many of you know Tracy Krimmer. I talk about her often as she's a friend of mine and my critique partner. She's the person I text when come up with a great idea for a story or some promotion. She's pretty much the only person who understands my ups and downs :) I remember when she was writing CACHING IN and I was reading the first few iterations of it. I love her storytelling! And it gets better with each story she writes. Did you miss my post on this book? Read my endorsement here!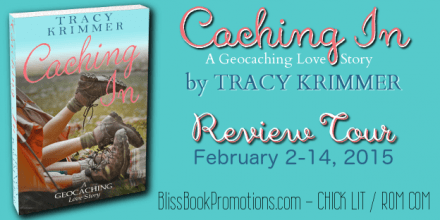 I asked her a few questions for today and here are her answers!
Tell us a little about CACHING IN. Give me the three sentence elevator pitch!
A sassy and sarcastic woman finds herself dumped and bored with her life. She meets a handsome man while diving into the hobby of geocaching. A new man, a new hobby, and a new way for her heart to be broken. I guess it needs work, but that's what I've got :)
CACHING IN involves geocaching as one of the plot elements. Where did you go on your first geocaching research trip? Did you enjoy it?
My first one was years ago, and I honestly don't even recall. The first one I did in research for this book was at a local park. I went with my friend, Rebecca, and we couldn't find it! We searched and searched and looked a little crazy feeling up the trees and rubbing the benches, so we moved onto a new place!
I know that you like to write novels that take place in the Midwest. Is this a staple idea for you? Or do you want to expand the destinations for your characters?
I will admit, I have not traveled much. I have been to Illinois, Disney and Las Vegas. I got adventurous, if you can call it that, and had Ally go to Nevada. I may branch out eventually, but right now I like to base the books where I am familiar. I have some real places, others are real, but I make up names for the towns.
One thing I loved about CACHING IN was Ally's voice, funny and sarcastic and at times a little self-deprecating. How did you hit on this? Some of it is laugh-out-loud funny and really well done! Great job!
I am a lot like Ally in that respect. I am glad it came off that way because sometimes it's difficult to portray that without the character coming off as mean. A lot of her voice was found thanks to a wonderful critique partner telling me when she was coming off as mean versus sarcastic. (S.J.: Ha! I did tell her that a few times! I love how Ally turned out by the final draft.)
Do you think you'll always write romance?
Yes. The first book I ever wrote was a thriller. I enjoyed writing it, but I think I've found my place in romance. I may try my hand again at a thriller, but it would be under a pen name.
How long does it take you to write a book?
This depends. PIECES OF IT ALL, my first romance, took almost three years from start to finish. CACHING IN was just under a year. The book I am working on now I think will take around eight months. It all depends on how much time I have and make to write!
I've found that getting things done is about having daily (or weekly) habits and practices to keep working on your project. Let's talk writing rituals – what do you to get in the flow for writing?
If I seriously need to sit down and write, I need CLEAN. I can't have anything on the floor, and the dishes can't be in the sink. My coffee and a granola bar or yogurt usually sit on the table beside me.
What's your favorite apps or tools? What do you use to write, edit, etc?
My most used apps are probably Facebook, Tweetbot and Candy Crush (yeah, I said it). For writing, Evernote is what I use the most. I typically use my microphone on my phone and dictate my work.
What's your most-favorite (enjoyable) thing you've done to share your work?
My Facebook party on release day. A number of authors joined me and we gave away books and other prizes. This event lasted twelve exhausting, but awesome, hours!
What new themes are you exploring now?
The theme in my new book focuses on loving yourself how you are. That's all I'll say!
Where is your favorite place to write?
My couch. Sometimes I balance the laptop on the arm of the couch, other times I criss cross apple sauce with it on my lap!
What food could you eat everyday?
Popcorn – and I pretty much do eat it every day! It's my go to snack, and I top it with popcorn salt and ranch seasoning.
What's your favorite dessert?
Does coffee count? If not, I love ice cream. I really like to take vanilla ice cream, top it with Hershey syrup, and swirl it around to make chocolate!
What is your favorite cartoon character?
This is difficult for me. I loved cartoons growing up, and I have to say my favorite probably was Strawberry Shortcake. I even had her bedspread.
What is your favorite movie of all time?
This is almost an impossible question for me to answer. All-time, I probably have to go with The Wizard of Oz. But, I do have favorite movies in different genres. Love Jones, The Man in The Moon, and Saving Silverman are three of my favorites.
What do you like to do for fun or just to relax?
Read, and if I have a paperback, read in the bathtub! I also love going to the zoo. The elephants are my favorite, and always have been.
What is the scariest thing you've ever done in your life?
Publish a book, probably! It's a scary thing to do!
Thanks for answering these questions, Tracy!! I'm looking forward to your next book. xo, S.J.
Giveaway!
Buy The Book
Amazon: http://www.amazon.com/gp/product/B00OEI7IZE/ref=as_li_tl?ie=UTF8&camp=1789&creative=390957&creativeASIN=B00OEI7IZE&linkCode=as2&tag=spajonas-20&linkId=UV2ZYWAP2ZFFXLLT
Goodreads: http://bit.ly/GRCachingIn
About the Author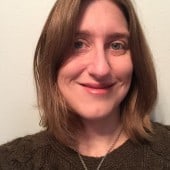 Tracy's love of writing began at nine years old. She wrote stories about aliens at school, machines that did homework for you, and penguins. Now she pens books and short stories about romance. She loves to read a great book, whether it be romance or science fiction, or any genre in between, or pop popcorn and catch up on her favorite TV shows or movies. She's been known to crush a candy or two as well. Her first romance novel, Pieces of it All, released in May 2014 followed in December with Caching In, a romance mixed with the hobby of geocaching. She also has written several short stories. Sign up for her newsletter so you won't miss out on any new releases at: http://www.tracykrimmer.com/newsletter/
Website: http://www.tracykrimmer.com
Goodreads: http://bit.ly/GRTracyKrimmer
Twitter: http://www.twitter.com/tkrimms
Facebook: http://www.facebook.com/KrimmerAuthor