On Friday, December 19th, and Saturday, December 20th, I made FACE TIME free on Amazon in an effort to thank readers for being so awesome this year. This was actually both a difficult and easy decision to make. It was difficult because FACE TIME is a stand-alone with no other books to funnel readers to if they like it except my Nogiku Series which is not in the same genre. I just published FACE TIME this year, so it's a very new book to give away. But the decision was easy because I barely sold any copies of FACE TIME the last few months, so why not just give it away for free? Right, exactly.
Here are the five lessons I learned from making it free for two days…
1) The book file and listing should be perfect ahead of time.
I learned this watching other people go free. Make sure your listing is perfect and showcases a few great reviews in the editorial review area. Be sure your bio is spiffy (I just changed mine!) and you have links to your newsletter on the product page, just in case. I double-checked my back matter on FACE TIME and made sure it was perfect with plenty of information on signing up for my newsletter and my usual begs for reviews. All of this I made sure was done at least a week before go time.
2) If I expect a lot of downloads, I need to coordinate it with an ad or event.
I had never made FACE TIME free before so I knew I would get a slew of people downloading it because they had added it to their wishlist. Do you know this wishlist trick? Make an Amazon wishlist of just Kindle books you want (I transferred my entire to-read Goodreads list over before I stopped using Goodreads) and look at it everyday sorted by "Price: Low to High." All the sales will rise to the top.
I coordinated my free days with a Facebook "12 Days of Christmas Reader Appreciation Event" and $15 worth of advertising I bought through fiverr. If you want the exposure, you have to pay for it somehow. Though I probably could have gotten a decent number of downloads without the ad, I'm sure it really helped.
3) Being free brings a lot of exposure to me and my book. (reviews, website, FB, etc)
Exposure is a double-edged sword. It's great to see people sharing my book and the sale. Going free drove traffic to my website and my Facebook Page.
Yes, going free also drove people the actual product page on Amazon, which meant a ton of eyes were on my book AND all the reviews I've received over the past few months. I managed to get 36 reviews ahead of going free, and they were a wide range of reviews from a 2-star through 5-star reviews. A wide range of reviews helps legitimize a book which is why I always welcome all reviews, positive or negative.
Let me comment on this one thing that happened which I totally should have popped popcorn for. The one 2-star review came from a woman who did not like the profanity and sex in the book, and she outright states that in the review. Now, what most people may not know is that calling out sex and profanity in a review is also a double-edged sword. One type of person reads that and thinks, "Oh my! I don't want to read books with sex and profanity in them!" Another reads it and thinks, "Oh goodie! Sex and profanity!" So a voting war began. People either voted the review as helpful or not based on whether they love sex and profanity or not (some of the up or down votes are even contradictory, I'm sure, with people voting up a 2-star review because they love sex and profanity and therefore wanted other people to know that sex and profanity existed in the book, etc.) Who really knows? But it was interesting to refresh the page and see which reviews were getting votes and floating to the top and which were in and out of the top over and over.
Honestly, if there was one thing that voting war taught me it's that I should put a disclaimer about sex and profanity on all my books. Better to just state it upfront.
4) It is both exciting and sickening to give your book away for free.
This is the simultaneous amazement that thousands of people are seeing my work and downloading it as well as the utter disappointment that the book I worked on for a year is flying into other people's hands for free. What can be done about this? Nothing, if you want to try free. Free worked well for REMOVED and I'm not opposed to it. This was just the first time I had ever seen it done on such a huge scale.
5) Residual sales will continue after the free days, but returns will also be high.
I gained a lot of visibility by making FACE TIME free, so naturally some people did buy it the next day at full price. Some of those people also turned right around and returned it. Why? Maybe because they thought it was free and didn't see the price? Maybe because they felt slighted they didn't get it for free so stripped the DRM, saved it, and returned it? I have my guesses, but I can't say for sure. At this point, I have stopped looking at my sales dashboard.
Final Stats
Total Free Downloads: 3,356.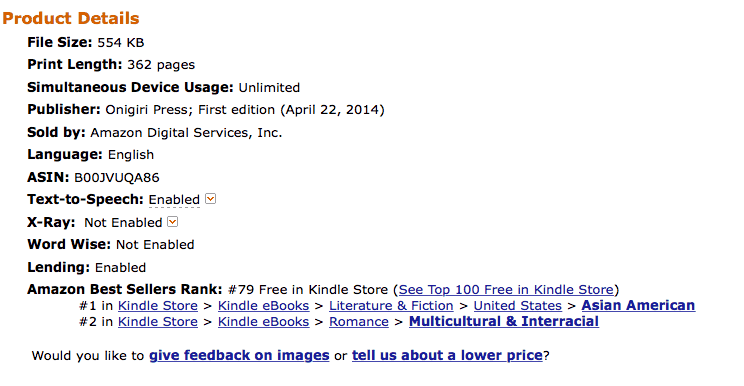 Best Ranking: #79 in the Free Store. #1 is Asian American Fiction & Literature. #2 in Multicultural Romance.
So, there you have it! Five lessons I learned making my book free. Thinking about going free as well? Be prepared, and you'll be better armed to handle any fallout!