I come across a lot of authors, but Whitney Barbetti is one of the best. Her books are widely popular but she's always been a fun, humble, caring and sweet workaholic. Fame does not go to her head, and her email inbox is out of control. Lol. Can you tell we're friends? The second book in her HE FOUND ME series is out today. The first book continues to gain readers everyday so I'm sure this one will be a great success too. Don't you love the cover? The colors are just breathtaking. Anyway, get your copy of this one for only 99¢ and then pick up the first in the series too while you're at it.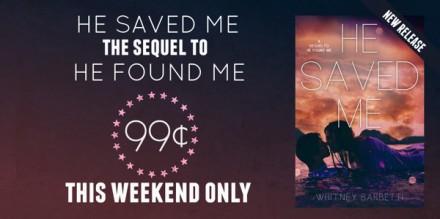 HE SAVED ME (He Found Me, #2) by Whitney Barbetti
Release Date: December 18, 2014
Genre: New Adult Romance
Julian
I've come to understand that I'll always find her. She's my North Star, my sense of direction. In her, I've found my home. She tells me I saved her. But the truth is, she saved me.

But nothing good can ever last. Andra's keeping secrets. She's holding something back. I'm trying, desperately, to anchor her. To let me in, to let me help.

But will all my efforts end up with a ghost of a girl I love?
***
Andra
I'm used to disappearing. Vanishing into thin air, without a trace of who I've been or where I've gone.

But it's so much harder to do with a broken heart and no hope for a happy ending. Sometimes the only people who can put all the pieces of us back together are the ones we least expect to. That's what Julian did for me.

Julian found me. But now, all Six wants is to keep me locked up, away from the world, away from the Monster. I can't live like that. It's not living at all. Because I still have unfinished business.

And I'm going to make sure the Monster gets what's coming to him.

Please note: This is a continuation of He Found Me. Characters from Ten Below Zero do appear in He Saved Me. This is the final installment of Julian and Andra's story.
Buy the Book!
The sequel is 99 cents for Release Weekend ONLY.
Amazon: http://www.amazon.com/gp/product/B00R4SBSW0/ref=as_li_tl?ie=UTF8&camp=1789&creative=390957&creativeASIN=B00R4SBSW0&linkCode=as2&tag=spajonas-20&linkId=XKWITNE2F3FAF6K4
iBooks: https://itunes.apple.com/us/book/id952607000
Go to Whitney Barbetti's Facebook page for giveaways: https://www.facebook.com/whitney.barbetti
About the Author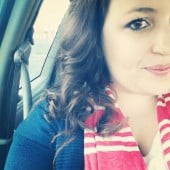 I am a wife to one and a mom to two humans and one cat. I have a deep and abiding love for nachos – especially the kind with the liquid cheese, like from Taco Bell (sorry). I run on less than four hours of sleep thanks to copious amounts of Diet Dr. Pepper. (Note: this paragraph is not sponsored by anyone except my hungry stomach.)
As a Navy brat, I grew up all over the country, from California, up the east coast from Florida to New England and Colorado. I currently live in Idaho, where we have lots of potatoes and windmills.
I write character-driven New Adult novels, heavy on the emotional connection. I LOVE love. I love writing about broken characters who find their soul mates.
Website: http://www.whitneybarbetti.com/
Facebook: http://www.facebook.com/whitney.barbetti
Twitter: https://twitter.com/barbetti
Tumblr: http://barbetti.tumblr.com/
Instagram: http://instagram.com/barbetti
Pinterest: http://pinterest.com/whitneybarbetti