My good friend and critique partner Tracy Krimmer has a new book coming out in December you'll want to check out. I love the concept for this one! Ally Cooper is a funny, snarky single lady (think Marian Keyes and her heroines) who decides to try out the hobby Geocaching. I really loved this romance and I can't wait to read it again.
CACHING IN: A Geocaching Love Story by Tracy Krimmer
Genre: Romantic Comedy
Publication Date: December 11, 2014
Can a compass lead you to love?

Broken-hearted Ally Couper has had enough with her ridiculous life. Her job at the bank is going nowhere, and her love life might as well be non-existent.

Determined to try something new, Ally becomes absorbed in the world of geocaching. The high-tech driven scavenger hunt introduces her to Seth, and she realizes the game isn't the only thrilling part.

Ally's bad luck may finally be changing, until the past threatens to halt her future with Seth. Can they find happiness together, or is love the one cache Ally can't find?
Pre-order on Amazon: http://amzn.to/1w1eA8Q
Goodreads Link: http://www.tracykrimmer.com/CachingInGoodReads
About the Author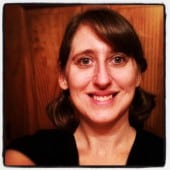 Tracy Krimmer is an author of romance. Her first book, PIECES OF IT ALL, a New Adult Contemporary Romance, released in May 2014. Her next full-length novel, CACHING IN, is set for release in December 2014. Many more books wait to be written! Besides writing, she's also a reader, and reads all different genres.
Twitter: http://www.twitter.com/tkrimms
Facebook: http://www.facebook.com/KrimmerAuthor