And for the second release day post today, I present Brinda Berry and her newest New Adult Novel, TEMPTING FATE.
TEMPTING FATE (a Serendipity novel #2) by Brinda Berry
Category/Genre: New Adult Contemporary/Romantic Suspense
Release Date: October 1, 2014
When two worlds collide, it can only be fate.

Collin knows trouble when he sees it. A beautiful girl crashing into his car? She should be flashing a neon DANGER sign. He knows better than to get involved with a fresh-faced babe who could break his already-tattered heart. After graduating from college, he's on track to start over in a new place. He's discovering what he wants from life, away from the shadow of his overbearing father and the betrayal of his cheating ex-fiancé.

Veronica's home life morphs from trailer park to homeless after a bloody fight between her brother and her ex. She's on the run from a situation that promises to be deadly. Without a home, money, or friends, she's at Collin's mercy.

Fate brought them together. Will a secret from her past tear them apart?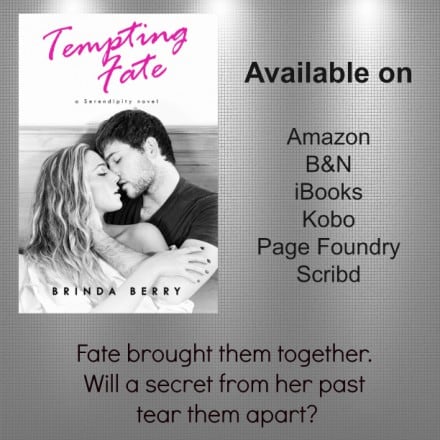 Buy Now!
Amazon: http://www.amazon.com/gp/product/B00NXY2PDA/ref=as_li_tl?ie=UTF8&camp=1789&creative=390957&creativeASIN=B00NXY2PDA&linkCode=as2&tag=spajonas-20&linkId=BLVDZ4KKYXEI7IHK
iBooks: http://bit.ly/TemptingFateiBooks
Page Foundry: http://bit.ly/TemptingFatePageFoundry
Giveaway!
About the Author
Brinda Berry lives in the southern US with her family and two spunky cairn terriers. She's terribly fond of chocolate, coffee, and books that take her away from reality. She doesn't mind being called a geek or "crazy dog lady". When she's not working the day job or writing a novel, she's guilty of surfing the internet for no good reason.
Website: http://www.brindaberry.com
Twitter: http://twitter.com/Brinda_Berry/
Facebook: http://www.facebook.com/BrindaBerryAuthor/
Pinterest: http://pinterest.com/brindaberry/
YouTube: https://www.youtube.com/user/brin145/videos
Google+: https://plus.google.com/u/0/100820059777249565490/posts