I'm always happy to feature New Adult books that have just gone on sale! If you're looking for some contemporary romance, you can pick up PRIVATE INTERNSHIP by Kitsy Claire today! Kitsy assures me that these books can be read out of order, but if you'd like to pick up her first book in this series, you can find it here on Amazon.
Sugar's not so sweet and secrets can be deadly … especially with matters of the heart

Sienna's bestie, Harper warned her not to intern for famous bad boy artist, Casper Mason. After all, he just fired Harper who helped Sienna get the interview. But the moment Sienna sees Casper—or Caz—sweaty and practically shirtless and swinging from chains while he works on his sculpture, she's hooked. He's the richest, hottest artist in New York, and he lives in the fabulous Williamsburg Sugar Factory. But he's also an incorrigible game-player, who seems to relish challenging Sienna's loyalty with a string of unsettling tests.

She knows she should get away fast. But by the time Sienna sneaks into his locked storage room and begins to unearth his dark and terrifying secret, she's fallen way too hard for the handsome, charismatic Caz.
Buy Now!
Amazon: http://www.amazon.com/gp/product/B00N6GJZ74/ref=as_li_tl?ie=UTF8&camp=1789&creative=390957&creativeASIN=B00N6GJZ74&linkCode=as2&tag=spajonas-20&linkId=CV3WHKNCML3B325Y
All Romance Ebooks: https://www.allromanceebooks.com/product-privateinternship-1634122-149.html
B&N: http://www.barnesandnoble.com/w/private-internship-kitsy-clare/1120393687?ean=2940150373648
Kobo: http://store.kobobooks.com/en-US/ebook/private-internship
About the Author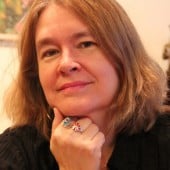 Kitsy Clare hails from Philly and lives in New York. A romantic at heart, she loves to write about the sexy intrigue of the city, and particularly of the art world. She knows it well, having shown her paintings here before turning to writing. The Art of Love series includes Model Position (novella) and Private Internship. Kitsy also writes YA as Catherine Stine. Her futuristic thriller, Ruby's Fire was a YA finalist in the Next Generation Indie book awards. Fireseed One, its companion novel, was a finalist in YA and SF in the USA News International Book Awards, and an Indie Reader notable. Her YA horror, Dorianna, launches on Oct. 24 with Evernight Teen.
On Facebook: https://www.facebook.com/pages/Kitsy-Clare/
Subscribe to Kitsy's newsletter: http://catherinestine.us6.list-manage.com/subscribe?u=1fe566b1e53f7d3e95b7443e4&id=93554d599e
Twitter: https://twitter.com/crossoverwriter
Pinterest: http://www.pinterest.com/kitsy84557/
Blog: http://catherinestine.blogspot.com/
Website: http://catherinestine.com