I'm pleased to show off the next novel in Chanel Cleeton's International School series. I bet this is a fun one set in Paris!
FRENCH KISSED by Chanel Cleeton
Release Date: December 1, 2014
Category/Genre: New Adult Contemporary Romance
Series: International School Book 3
On the surface Fleur Marceaux has it all—if only the façade matched reality. With one year left at the International School in London, Fleur's struggling to graduate, her love life is a mess, and she can't stop thinking about Max, her ex-boyfriend's best friend. But all of that pales compared to the blackmailer determined to destroy her.

There's a social hierarchy at the International School, and Max Tucker is outside the velvet ropes. After watching Fleur break his friend's heart, Max knows to stay away from trouble—despite the crush he's had on her since freshman year. But when they're partnered on a project, Max learns there's more to Fleur than meets the eye, and she just might be worth the wild ride.

The more time they spend together, the further Max falls. And when a kiss awakens a passion Fleur never imagined, she's unable to resist Max, who she thought was wrong for her, but might be the only thing that's right.

But will he stand by her when her secrets are revealed?
Don't miss the final book in the International School series. This New Adult romance is recommended for readers 17 and up.
Queue on Goodreads: https://www.goodreads.com/book/show/22858376-french-kissed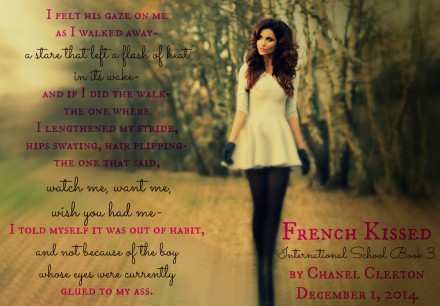 Other Books in the Series
I SEE LONDON (International School Book 1)
Amazon: http://amzn.to/MpM27V
B&N: http://bit.ly/1ibPGgh
iBooks: http://bit.ly/1ewcogY
Kobo: http://bit.ly/1xDFbu1
Goodreads: https://www.goodreads.com/book/show/18778603-i-see-london
LONDON FALLING (International School Book 2)
Amazon: http://amzn.to/1n6rvo2
B&N: http://bit.ly/VxbiOd
iBooks: http://bit.ly/1ziLXaq
Kobo: http://bit.ly/1jXByHr
Goodreads: https://www.goodreads.com/book/show/20490480-london-falling
About the Author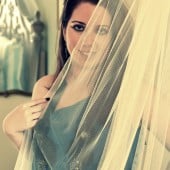 Originally a Florida girl, at seventeen Chanel moved to London to attend an international university. In the four years that followed, she received her bachelor's and master's degrees, learned how to dance, travelled through Europe, and made lifelong friendships. Chanel fell in love with London and planned to stay there forever. But fate intervened on a Caribbean cruise, when an American fighter pilot with smooth dance moves, swept her off her feet.
Now, a happily ever after later, Chanel is living her next adventure in South Korea. An avid reader and hopeless romantic, she is happiest curled up with a book. She has a weakness for handbags, puppy cuddles, and her fighter pilot husband. Chanel writes New Adult contemporary romances and Young Adult thrillers.
She is the author of I SEE LONDON and LONDON FALLING, published by Harlequin HQN, the upcoming FRENCH KISSED, and FLIRTING WITH SCANDAL, the first book in a new three-book NA series to be released by Penguin/Berkley in 2015.
Website: http://www.chanelcleeton.com
Facebook: http://www.facebook.com/authorchanelcleeton
Twitter: http://www.twitter.com/chanelcleeton
Goodreads: http://www.goodreads.com/chanelcleeton