I've been self-publishing for almost a year now (OMG, I should probably write an anniversary post… adds it to list) and I've met a lot of great authors along the way. Whitney ranks near the top. She's so darned talented, and she's also a real joy to interact with. I love to hear what she has to say on many publishing topics, and her advice on FB ads has helped me so much. I've learned a lot from her these past few months.
She has a new book out, TEN BELOW ZERO. It promises to be heart-wrenching and powerful. I've purchased my copy and can't wait to dive in. I think you'll be intrigued just by the blurb!
(Holy smokes! TEN BELOW ZERO already has 19 5-star reviews and is #541 in the Kindle Store. Good job, Whitney!)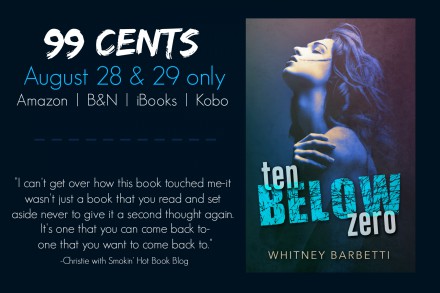 TEN BELOW ZERO by Whitney Barbetti
Genre: New Adult Romance
Release Date: August 28, 2014
"In here," he said, pushing on the skin above my heart, "you're ten below zero. And you're closer to death than I am."

My name is Parker. My body is marked with scars from an attack I don't remember. I don't want to remember. I choose to live my life by observation, not through experience. While people are laughing and kissing and connecting, I'm in the corner. Watching them live. I'm indifferent to everything, everyone. The only emotion I feel with any kind of depth is annoyance, and I feel it often.

A text message sent to the wrong number proves to be my undoing.

His name is Everett, but I call him rude. He's pushy, he's arrogant, he crowds my personal space, and worst of all: he makes me feel.

He chooses to wear all black, all the time, as if he's waiting to attend a funeral. Probably because he is.

Everett is dying. And he's spending his final days living, truly living. In doing so, he's forcing me to feel, to heal. To come face to face with the demons I suppressed in my memory.

He hurts me, he fulfills me, he completes me. And still, he's dying.
Buy Links
Amazon: http://www.amazon.com/gp/product/B00N272BRS/ref=as_li_tl?ie=UTF8&camp=1789&creative=390957&creativeASIN=B00N272BRS&linkCode=as2&tag=spajonas-20&linkId=5O3BBZDKWOLVOWEL
Barnes & Noble: http://www.barnesandnoble.com/w/ten-below-zero-whitney-barbetti/1120206631?ean=2940150396043
Kobo: http://store.kobobooks.com/en-US/ebook/ten-below-zero
iBooks: https://itunes.apple.com/us/book/ten-below-zero/id912404092?mt=11
About the Author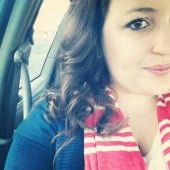 I am a wife to one and a mom to two humans and one cat. When I'm not changing diapers or cutting food into tiny bites, I escape to Starbucks for hours.
I write character-driven New Adult novels, heavy on the emotional connection. I LOVE love. I love writing about broken characters who find their soul mates.
I love hearing from readers!
Website: http://www.whitneybarbetti.com/
Facebook: https://www.facebook.com/whitney.barbetti
Blog: http://barbetti.tumblr.com/
Instagram: http://instagram.com/barbetti
Twitter: https://twitter.com/barbetti
Goodreads: https://www.goodreads.com/author/show/8106490.Whitney_Barbetti