In November of 2005, my husband and I traveled in Japan, and the one thing that I felt I must experience was a true kaiseki meal. We made reservations at the Hotel Seiyo Ginza's kaiseki restaurant and had the meal of our lives. I'm sad to say that the hotel is now closed, and I feel fortunate to have stayed in such a luxury hotel and dined in their five-star restaurant. Japanese food, especially kaiseki is one-of-a-kind, and worth every bit of effort expended to make it, serve it, and enjoy it.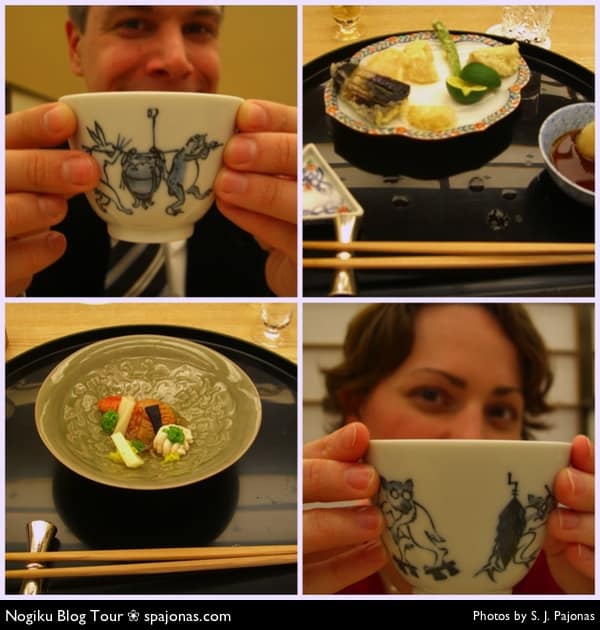 On December 5, 2013, the United Nations' UNESCO organization added traditional Japanese food to its World Heritage list, making washoku (literally "Japanese food") only the second ever world cuisine to be recognized (the first was traditional French cuisine). source
Why is classic Japanese food so unique that it deserves world recognition? Let's face it. Most westerners know very little about Japan and even less about their food. Sushi is about as detailed as it gets. But washoku and its haute cuisine sister, kaiseki, are some of the simplest and yet detail-oriented food on the planet. With a basic knowledge of ingredients and traditional staples, you too can construct your own simple kaiseki meal.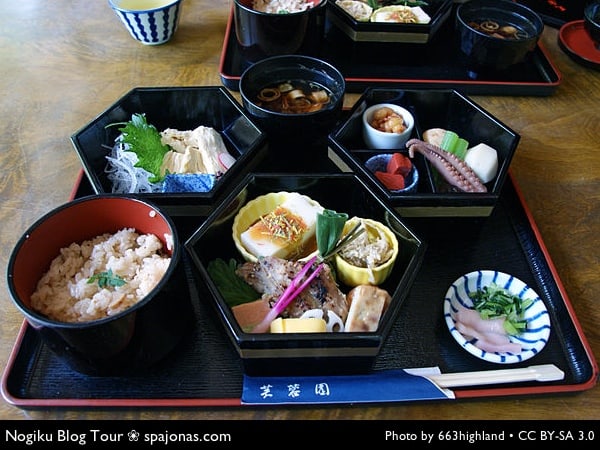 What is kaiseki?
Kaiseki literally means "bosom stone" which is quite a perplexing translation, right? But it refers to the heated stones that monks carried in their robes to keep chills away in winter, and morphed into meaning a light meal to ward off hunger. There are two kinds of kaiseki meals: a traditional kaiseki meal that consists of several courses of food in a long sit-down dinner, and a cha-kaiseki meal which is the smaller, tea ceremony version.
Kaiseki is an art form and highlights local and seasonal ingredients. Kikunoi restaurant in Kyoto is a great example of some of the best kaiseki available. Each season, the head chef sources local and seasonal ingredients and prepares small, artistic and elegant dishes meant to showcase the flavors from those ingredients and traditional Japanese dishes.
A prepared kaiseki meal goes through several courses:
Saizuke – Also called sukidashi or otoshi, it the equivalent of the French amuse-gueule, a small savory appetizer served before the meal.
Hassun – a seasonal themed sushi
Mukozuke – a seasonal sashimi
Takiawase – a medley of vegetables and fish or meat or tofu, all simmered separately
Futamono – "lidded dish" often very hearty and usually, but not always, a soup or stew
Yakimono – a broiled seafood dish, or eggplant, tofu, or bamboo shoots served grilled
Su-zakana – a palate refresher of mixed vegetables or wild plants, sometimes served with a mild vinegar dressing
Hiyahi-bachi – summer only chilled-dish, fish or vegetables
Naka-choko – another palate refresher sometimes a chilled soup
Shiizakana – a hot pot dish, simmered or dressed
Gohan – the rice course, usually cooked with seasonal ingredients or donburi which is glutinous rice topped with fresh seafood
Ko no mono – seasonal pickled vegetables
Tome-wan – soup served with rice and the previously mentioned pickled vegetables. Traditionally a miso based soup.
Mizumono – a seasonal dessert, often a Japanese confection, ice cream, or cake
Wow, that's a lot of courses! And if you do get the chance to dine at a traditional kaiseki restaurant, you will sit and enjoy that meal for many hours, talk and laugh with your companions, and chat with your servers or even the chef about what you're eating and experiencing. It's a magical meal.
A small kaiseki meal for special occasions
But really, most of us have little time to make something so elaborate. In RELEASED, Book TWO of the Nogiku Series, Sanaa is invited to Yoshinori Minamoto's family tea house to have kaiseki lunch with him and his wife. A tea house kaiseki meal is smaller and usually served on a large lacquerware platter with several of the courses I listed above all in one place. Let's look at the photo below and identify some of the courses.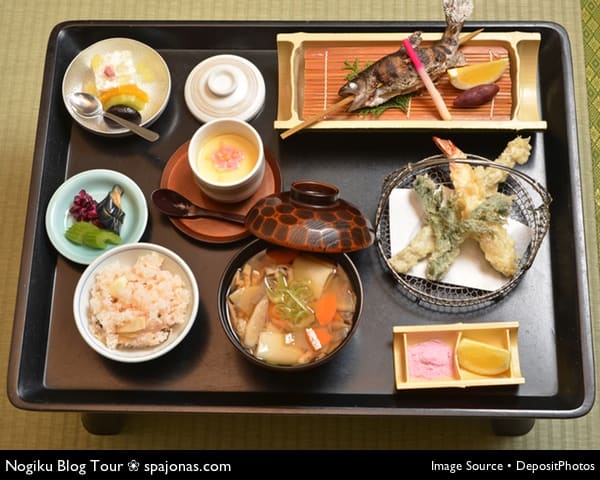 Starting in the center front.
1. Futamono – a lidded bowl soup or hearty stew
2. Gohan – a flavored rice dish
3. Ko no mono – seasonal pickled vegetables
4. Naka-choko (possibly) – this looks like a chilled soup palate refresher
5. Mizumono – dessert in the upper left corner
6. Yakimono – a grilled small, whole fish
7. Tempura – not on the list above but also a popular dish in cha-kaiseki especially when comprised of seasonal fish or vegetables
Now that you can identify some of the components to a kaiseki meal, let's talk about making your own.
Assembling your own kaiseki meal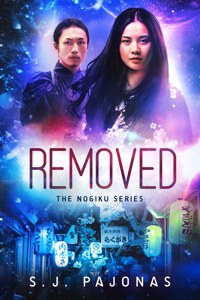 First take a moment to consider your location and season. I live just outside of NYC so I can get good seafood just about any time of the year but salmon is prevalent and on sale all the time. Right now, it's winter and items like brussels sprouts, kale, blood oranges, mushrooms, and sweet potatoes are in season and looking lovely on the shelves at my local Whole Foods.
Some ideas I might consider for a kaiseki meal using these ingredients: roasted brussels sprouts with a miso dressing, rice cooked in dashi and hearty mushrooms (this is easy to make in the rice cooker!), grilled salmon brushed with sesame oil and dashed with shichimi togarashi (a seven spice red pepper you can find at most asian markets), miso soup, and sweet potato simmered in teriyaki sauce, mochi ice cream for dessert.
Sounds delicious, right? (I'm already hungry). And when you have a general plan for the meal, it's easier than you thought it was going to be.
Need some menu inspiration?
I have a few websites that I always turn to when I need some ideas for a home kaiseki meal.
La Fuji Mama – Rachael, an American woman that lived in Japan, dishes out fantastic and easy meals with a heavy emphasis on Japan (she also cooks many cuisines from around the world)
Just Hungry/Just Bento – These two blogs will give you everything you need to know about Japanese food and plenty of recipes to make
Humble Bean Blog – I love this blog because it's divided easily into the types of recipes available. You'll find a recipe for each part of your kaiseki meal here!
Need more guidance? Check out my Kaiseki Pinterest board. http://www.pinterest.com/spajonas/kaiseki/
Plenty of inspiration here for your own kaiseki meal. Itadakimau!!