LONDON FALLING is now out!! Yay! Congratulations to Chanel Cleeton on another book birthday!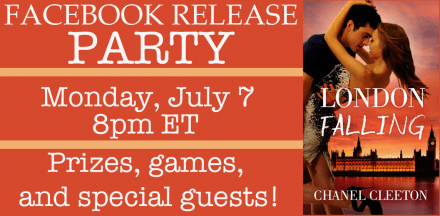 Join us for a party celebrating LONDON FALLING's release! A group of amazing authors will be stopping by to host the party and there will be giveaways, teasers, games, and much more!
On Facebook: https://www.facebook.com/events/1504034499809243/
LONDON FALLING by Chanel Cleeton
Release Date: July 7, 2014
Harlequin HQN (Digital First)
New Adult Contemporary Romance
We weren't a relationship, we were a ticking time bomb…

Maggie Carpenter walked away from the hottest encounter of her life when she left the seductive glitz of England for summer break in her South Carolina hometown. Now that she's returned to the International School in London—and sexy, privileged Samir Khouri is once again close enough to touch—she can't help but remember the attraction, the drama … the heartbreak.

She can't help but want him even more.

Samir can't afford to fall for someone so far removed from his world, not when his time in London is running out. It's his senior year—his last chance at freedom before he returns home to Lebanon. There, he'll be expected to follow in his father's footsteps—not follow his heart to Maggie. But when a scorching secret hookup becomes a temptation neither can resist, they'll both have to fight to survive the consequences … and find a future together.
Don't miss this explosive sequel to I SEE LONDON, and the riveting conclusion to Maggie and Samir's story. This is a New Adult romance recommended for readers 17 and up.
Queue it on Goodreads: https://www.goodreads.com/book/show/20490480-london-falling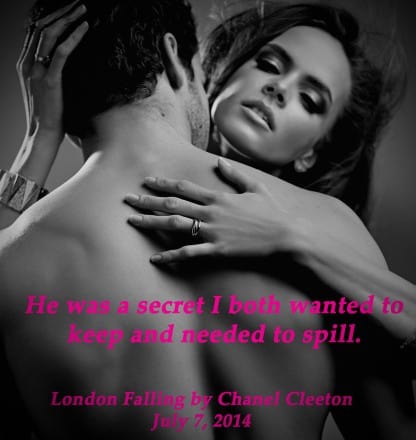 Buy Links
LONDON FALLING BOOK BUY LINKS
Amazon:  http://amzn.to/1jX3Sfl
Barnes & Noble:  http://bit.ly/1idOOGN
iTunes:  http://bit.ly/1rCOY2W
Harlequin:  http://bit.ly/1vNCEe5
I SEE LONDON BOOK BUY LINKS (Book 1 in the series)
Amazon:  http://amzn.to/1cQXjYm
Barnes & Noble:  http://bit.ly/1khLGx1
iTunes:  http://bit.ly/1fBFzRj
Harlequin: http://bit.ly/1nENamw
About the Author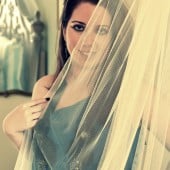 Originally a Florida girl, at seventeen Chanel moved to London to attend an international university. In the four years that followed, she received her bachelor's and master's degrees, learned how to dance, travelled through Europe, and made lifelong friendships. Chanel fell in love with London and planned to stay there forever. But fate intervened on a Caribbean cruise, when an American fighter pilot with smooth dance moves, swept her off her feet.
Now, a happily ever after later, Chanel is living her next adventure in South Korea. An avid reader and hopeless romantic, she is happiest curled up with a book. She has a weakness for handbags, puppy cuddles, and her fighter pilot husband. Chanel writes New Adult contemporary romances and Young Adult thrillers. Her New Adult debut, I SEE LONDON, will be released by Harlequin (HQN) on February 3, 2014, followed by a sequel, LONDON FALLING, later in the year.
Website: http://www.chanelcleeton.com
Facebook: http://www.facebook.com/authorchanelcleeton
Twitter: http://www.twitter.com/chanelcleeton
Goodreads: http://www.goodreads.com/chanelcleeton