The stars mean everything to Sanaa and Jiro from the Nogiku Series. Jiro loves the stars, and the heavens play a part in every book of the series. Maybe it's because, growing up, I fell in love with the stars at an early age. My family stargazed together and spent hours at a telescope every night we could. I took an astronomy class at Michigan State University I'll never forget too. From the top of the Astronomy building, I saw Saturn with my own eyes for the very first time. It was amazing.
I've got excerpts for you from each of the books of the Nogiku Series! Including an exclusive excerpt from the next book to come out. Read on!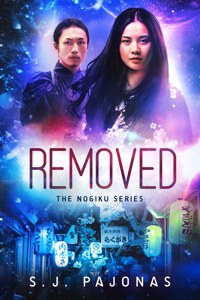 In REMOVED (The Nogiku Series, #1), Jiro tells Sanaa of his love for the stars.
"Jiro, if you hadn't had to go into the family business, what would you have liked to do? You know, like a career. Mark wanted to do farming and hydroponics, as crazy as that sounds." I had my chance to be an engineer. Designing buildings was all I wanted to do from a young age, and my dreams were taken away. I wonder what Jiro wanted.

"Oh. I love astronomy. Space flight." His eyes light up, making my heart flutter.

"Really? A man of science. I love that. I bet you're excited for the trip to Yūsei."

"It's all I've thought about since I was little. I love drawing and art, but that's just a hobby. I track the course of stars, the planets here in our solar system, and call up whatever data I can find on the colonization. I wish we had access to more." He rests his chin on his hand and looks at me. "My mother is into astrology as a hobby. I taught her how to check the positions of all the planets and zodiac constellations, so she can do her predictions and cast a person's chart." He rolls his eyes, but astrology sounds interesting. I'll have to ask her about it someday.

"That day we went up to the top of Ku 10 was not my first trip outside. Sometimes Sakai takes me up to the outdoor garden during the day when we have important business to discuss. No surveillance. I've been up one other time at night to see the stars. The night sky is the most glorious thing I have ever seen."

He closes his eyes, and I wonder how clearly he can remember the stars in his head.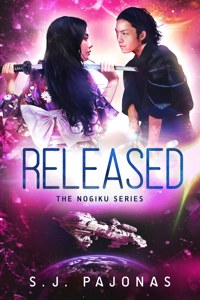 In RELEASED (The Nogiku Series, #2), Jiro shows the stars to Sanaa on Tanabata, a very special summer holiday in Japan. But he's got big plans that night…
The long corridor to the outside stretches before us, and I shudder with a small twinge of anxiety when I think about the last time I was here. I grip Jiro's hand even tighter and pull him closer to me.

"Will you be all right, Sanaa?" He turns his smile on me. "I know how much you love the stars. Maybe we'll see Orihime and Hikoboshi tonight."

"Jiro, you're such a romantic," I say, pinching him on the arm.

He turns and backs into the door, opening the latch with his elbow. "It's true. I am. But nothing is more romantic than the stars."

The night is hot and clear, and the sky is bright with millions of pinpoints of light above us. The moon is absent, but its light would have obscured the cloud of the Milky Way stretching from one end of the horizon to the other. I only look up; the sky amazing in its brilliance.

If this were day, my eyes would be on my feet, and I would hope I wouldn't pass out, but I can't tear my eyes from the stars. Jiro gently leads me out farther and farther past the door and the tarp that shelters the entryway. When we get far enough out, he pulls me to him, and I turn my gaze as high as it can go, past his face which is soaking in the stars as well.

We stand quietly for a while, just watching, and, when my neck begins to ache, I close my eyes and bring my face down to his chest.

I take a moment to breathe in Jiro and place this memory safely in my head. I'm lucky tonight. When I open my eyes, Beni is standing with Usagi off to the side and both are smiling at us.

"Beni, what are…?"

I stop when my eyes hit the ground.
So damned romantic! Jiro is the king of romance :) It's nice to write him.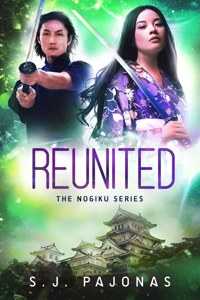 And in REUNITED (The Nogiku Series, #3), Sanaa has lots on her mind when she looks at the stars…
My alarm chimes at 07:30, and I roll over in an empty bed to turn it off. Yesterday, I proposed plans for an electronic warning fence around the perimeter of our town, plans that took me several days and very late nights to put together. I was exhausted in the evening, and I don't remember falling asleep in bed.

Jiro takes me outside every night to sit under the stars, to watch them climb the night sky, and just be alone together. The first night he pulled me out to the garden was breathtaking. Both moons were above us and the entire estate was bathed in a glow that made everything fuzzy around the edges. Both moons are similar to Earth's moon, the major moon is almost twice the size. The minor moon sits low in the sky, a little brother off to the south of its larger brother, a huge crater punched into the center of its equator. After sunset, they are a wash of blood reds and fiery ochre, slowly fading to pure white as they climb higher in the sky.

Jiro and I chat about our days, I lace my fingers in his, and lay my ear against his chest to listen to his heart. I am savoring every moment of my life, afraid my existence will be cut short along the length of my enemy's sword. Lying with Jiro each night under the stars is the only time I feel safe and alive. I often fall asleep on him, and he carries me in to bed when he can't rouse me.

The bed is warm, and I don't want to get up. Getting out of bed means I have to get dressed, have to eat breakfast and begin a day filled with fear, deceit, and uncertainty while my friends build their new lives and never give two thoughts to who else shares this planet with us.
I hope you enjoyed these excerpts. I loved writing this series!