This New Adult Romance focuses on a summer before college which is always an exciting time!
THIS SUMMER by Katlyn Duncan
Release Date: August, 2014
Publisher: Carina UK
Before college, before responsibilities, Hadley Beauman and best friend Lily are determined to have a summer to remember. There will be all the usual dramas – ex-boyfriends who don't seem to know what 'ex' means, pesky younger brothers with unrequited crushes, but what Hadley didn't anticipate was the out-of-the-blue return of the seriously hot boy-next-door, Will Carson. The boy who broke her heart when he skipped town two years ago.

Will may have shot up a foot and filled out (oh yes), but inside he carries the weight of guilt – for leaving, for coming back… Now he's just passing through to tie up loose ends but it's clear the old chemistry still crackles between him and Hadley. Trouble is, it's built on two years of lies…

This summer might just be the best time of their lives, but is Hadley ready for everything to change – again?
Queue it on Goodreads: https://www.goodreads.com/book/show/22010889-this-summer
About the Author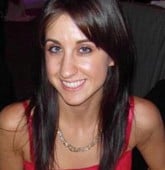 Katlyn Duncan was born and raised in a small town in western Massachusetts. Her overactive imagination involved invisible friends, wanting to be a Disney Princess and making up her own stories. Her bibliophile mom always encouraged her love of reading and that stayed with her since. Even though she works full time in the medical field Katlyn has always made time for books, whether she is reading or writing them.
Katlyn now lives in southern Connecticut with her husband and adorable Wheaten Terrier and she is thrilled to finally share her stories with the world.
Website: http://www.katlynduncan.com/
Goodreads: https://www.goodreads.com/author/show/7060690.Katlyn_Duncan
Twitter: https://twitter.com/katlyn_duncan
Facebook: https://www.facebook.com/duncankatlyn
Cover Reveal Organized by: YA Bound Book Tours