When it comes to surreal and paranormal, no one does this better than Kat Vancil, and she's a wickedly talented designer as well. Check out the cover to her short story prequel to the Marked Ones Trilogy!
BEAUTIFUL STRANGER by Alicia Kat Vancil (The Marked Ones Trilogy Book 0.5)
Genre: Young Adult Paranormal Romance
Release Date: May 21, 2014
Patrick Connolly is about to get the one thing he has always wanted… kinda.

We all have that one thing—that one thing we wish for on every first star of the night. Wealth. Fame. Love. For geeky artist Patrick Connolly, it is the attention of his beautiful and seemingly unattainable classmate Nualla Galathea. There's just one problem—he's got less than a snowball's chance in hell, and that's being generous.

However, when a heated argument erupts in the halls of Bayside Academy forcing Patrick and Nualla's paths to collide, Nualla surprisingly jumps at the opportunity to be his date. Patrick may think his wish has just come true, but this gentle boy will need more than artistic talent to combat the deadly secrets lurking behind his dream girl's veil of normality. Like the fact that she isn't even human.

Beautiful Stranger is a Marked Ones novella that is approximately 20,000 words long.
Queue it on Goodreads: https://www.goodreads.com/book/show/22059563-beautiful-stranger
About the Author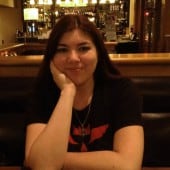 Alicia Kat Vancil grew up in the heart of Silicon Valley where she amused herself by telling stories to anyone around her—her family, her friends…random strangers. Eventually she actually started writing those stories down instead of just spending hours hanging out in fake Ikea living rooms and telling her friends about them. Somewhere amongst all the character-torturing and epic explosions she managed to get a BFA in Illustration from the Academy of Art University and open a graphics studio (Multi-tasking for the win!).
Kat still lives in the San Francisco Bay Area with her husband, two very crazy studio cats, and nine overfull bookcases. And when not running a muck in the imaginary worlds within her head, Kat can usually be found performing, watching anime, or hanging out in Twitter chats.
Twitter: https://twitter.com/KatGirl_Studio"
Google+: https://plus.google.com/+AliciaKatVancil/posts
Pinterest: http://www.pinterest.com/katgirlstudio/
Wattpad: http://www.wattpad.com/user/KatGirlStudio
Goodreads: http://www.goodreads.com/author/show/3478175.Alicia_Kat_Vancil
Amazon: http://www.amazon.com/Alicia-Kat-Vancil/e/B00DTWET8K/
Website: http://www.katgirlstudio.com/alicia-kat-vancil/