Ana Bastow is one of these amazing authors that I look up to. She's writing in English when it's not her first language, and her worlds are multicultural and rich with details. I have the first book of this series, and I can't wait to read it. I need another 10 hours in every day just for reading. It's hard to fit it in when it's needed!
---
THE HEKAPOLIS TRILOGY, BOOK 2: EXPERIMENT by Ana Bastow
Genre: Upper-YA / New Adult Multicultural Paranormal Romance
Intended age: 16 and up, IMO.
Rating: Hot PG13.
A betrayal, the Akelarre, a birth, a funeral, a wedding….in that order.

Gabrielle is enjoying her first real boyfriend. Her new family is supportive, but her college friends, especially Tess, think she is going to get her heartbroken by the campus "Petri Dish".

Gabrielle knows his reputation as a womanizer is an exaggeration- knowing a human, in the biblical sense, means madness or death for any wizard. This sadly includes her and -even though William can do feats with his tongue worthy of an R version of Cirque do Soleil- her desire for him keeps growing to the point of almost causing a disaster for the young couple.

Their situation becomes even more trying when Samantha, shielded by the Wizard's redemption laws, ensures her residency with the Wyseman for as long as she is paying for her crimes. And she is not afraid to use all her seduction repertoire to try to win her fiancé back. Gabrielle contemplates the possibility that William might fall out of love with her. Pondering this predicament, William, Maggie and her prepare Gabrielle for her first visit to Hekapolis for the Akelarre, and given that Samantha is banned from the city she is glad to take a break from the competition.

The sanctuary of witches is a paradise of broom races, dragon riders, winged horses, unicorns and people of all backgrounds trading spells and potions with their family and friends from the seven corners of the world.

During the festivities, Gabrielle meets gorgeous Mitali -William's best friend- and she discovers there is a romantic past between them. Shocked by this, Mitali eases her fears by offering her a chance to use her magical gifts so that she and William can have a full physical relationship at last.

But the offer comes with a warning from her new friend: "Once I reveal my potion, you will have to choose between giving yourself to William in body, mind and soul…Or breaking up with him…"

Gabrielle will battle more internal demons and will receive the help of an unlikely ally to figure out her future with William.
About the Author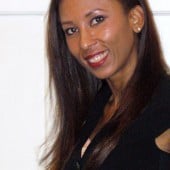 Ana Brígida Gómez González de Bastow (Ana Bastow) is the winner of the National Literary Award in Dominican Republic (2008) for her first solo book La Sirenita de Coral (The Coral Mermaid). Hypothesis is the first book of The Hekapolis Trilogy, her debut novel in English. She currently lives with her husband and son in San Bernardino County, Southern California, USA.
You can find Ana Bastow online here!
Twitter: http://www.twitter.com/astrogea
Facebook: https://www.facebook.com/pages/Hypothesis-The-Hekapolis-Trilogy/346357982175139
Amazon: Book 1 of THE HEKAPOLIS TRILOGY http://www.amazon.com/dp/B00FLY4MW2
Blog: http://anabastow.wordpress.com/ (en Espanol)
Blog: http://anabastow.blogspot.com/