Super excited for A.J. Pine's release day today! She's another member of the New Adult Authors FB group I belong to, and we've all watched her journey to publication. It's really cool to see a book make its way from idea to the shelves!
---
IF ONLY by A. J. Pine
Genre: New Adult Contemporary Romance
Release Date: March 24, 2014
Sometimes it takes crossing an ocean to figure out where you belong.

It's been two years since twenty-year-old Jordan had a boyfriend—which means it's been forever since she, well, you know. But now she's off to spend her junior year in Aberdeen, Scotland, the perfect place to stop waiting for Mr. Right and just enjoy Mr. Right Now.

Sexy, sweet (and possible player) Griffin may be her perfect, no-strings-attached match. He's fun, gorgeous, and makes her laugh. So why can't she stop thinking about Noah who, minutes after being trapped together outside the train's loo, kisses Jordan like she's never been kissed before? Never mind his impossible blue eyes, his weathered, annotated copy of The Great Gatsby (total English-major porn)…oh, and his girlfriend.

Jordan knows everything this year has an expiration date. Aberdeen is supposed to be about fun rather than waiting for life to happen. But E. M. Forster, Shakespeare, and mistletoe on Valentine's Day make her reconsider what love is and how far she's willing to go for the right guy.
Amazon: http://amzn.to/1iMGG33
B&N: http://bit.ly/1oIN118
iTunes: https://itunes.apple.com/us/book/if-only/id832651991
Goodreads: https://www.goodreads.com/book/show/20798976-if-only
About the Author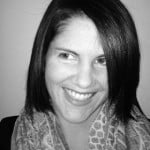 AJ writes stories to break readers' hearts, but don't worry—she'll mend those hearts with a happily ever after…maybe. The first book she wrote was YA, but now she's two-timing her first love Pine4BWwith NA. She's always in the middle of reading two to three books, adores online shopping (everything from groceries to shoes), and she still loves vampires, whether it's Eric Northman or the Salvatore brothers. When she's not writing, AJ is sneaking off to her day job as a high school English teacher or hanging with her husband and kids in the Chicago burbs.
Website: http://ajpine.com/
Twitter: https://twitter.com/AJ_Pine
Facebook: https://www.facebook.com/ajpineauthor