I have two posts today but the first one here is for Juliana Haygert's BREAKING FENCES. This is a companion book to BREAKING THE REINS which I loved. I read it last year and was glued to my Kindle for a few days. So good. I'm looking forward to picking this one up too.
• • • • •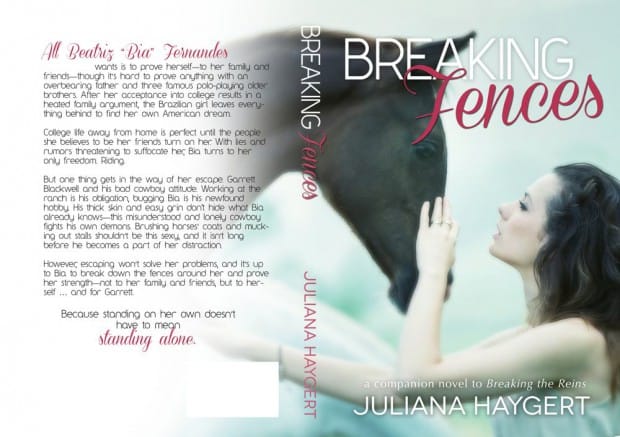 BREAKING FENCES (The Breaking Series, #2) by Juliana Haygert
Genre: NA contemporary romance
Word Count: ~80,000
Release date: June 2014
Cover: Okay Creations
All Beatriz "Bia" Fernandes wants is to prove herself—to her family and friends—though it's hard to prove anything with an overbearing father and three famous polo-playing older brothers. After her acceptance into college results in a heated family argument, the Brazilian girl leaves everything behind to find her own American dream.

College life away from home is perfect until the people she believes to be her friends turn on her. With lies and rumors threatening to suffocate her, Bia turns to her only freedom. Riding.

But one thing gets in the way of her escape. Garrett Blackwell and his bad cowboy attitude. Working at the ranch is his obligation, bugging Bia is his newfound hobby. His thick skin and easy grin don't hide what Bia already knows—this misunderstood and lonely cowboy fights his own demons. Brushing horses' coats and mucking out stalls shouldn't be this sexy, and it isn't long before he becomes a part of her distraction.

However, escaping won't solve her problems, and it's up to Bia to break down the fences around her and prove her strength—not to her family and friends, but to herself … and for Garrett. Because standing on her own doesn't have to mean standing alone.
Check out the Pinterest board: http://www.pinterest.com/julianahaygert/the-breaking-series/
Queue it on Goodreads: https://www.goodreads.com/book/show/20482754-breaking-fences
BREAKING THE REINS on Goodreads: https://www.goodreads.com/book/show/17730510-breaking-the-reins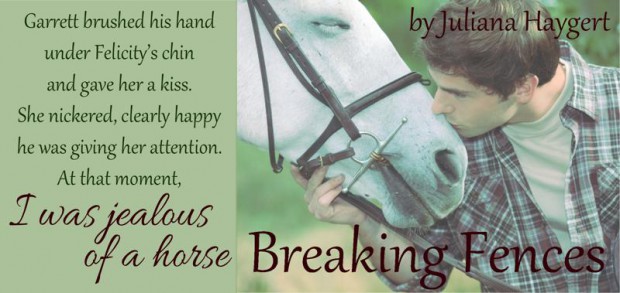 About the Author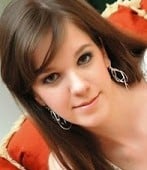 While Juliana Haygert dreams of being Wonder Woman, Buffy, or a blood elf shadow priest, she settles for the less exciting—but equally gratifying—life of a wife, mother, and author. Thousands of miles away from her former home in Brazil, she now resides in Connecticut and spends her days writing about kick-ass heroines and the heroes who drive them crazy.
Website: http://www.julianahaygert.com/
Goodreads: http://www.goodreads.com/author/show/6609948.Juliana_Haygert
Twitter: https://twitter.com/Juliana_Haygert
Facebook: http://www.facebook.com/juhaygert
Pinterest: http://pinterest.com/julianahaygert/