Another New Adult Contemporary Romance Release this week! If you're looking for romance, it appears this is the week to be buying them. A NEED SO INSATIABLE by Cecilia Robert sounds hot hot hot and also is only 99¢ for a limited time. It would be a good idea to load it on your Kindle for a rainy day :) I'm including some of the author's favorite quotes from the book below. It's interesting to see what she picked and why!
---
I'm no Cinderella. No fairy godmother will come to my rescue, so it's time to turn these rags into gowns and get ready before my pumpkin ride arrives in two hours. ~ Sophie Fisher
Cecilia: Sophie is not the kind of girl who sits around and waits to be rescued. I chose this quote to emphasis Sophie's attitude towards her current situation and her stubbornness to let anything drag her down.
~~~
"Begging is for fools." His voice is arrogant, strong. The bed sinks as he crawls toward me, a hunter stalking his prey. "Fools who don't know better than to want. Need. Who are foolish enough to desire someone as special as you. Who feel as though they'll die if they don't possess you. If you don't possess them." He shifts forward and I part my legs, hooking them on his waist, pulling him closer until he's snuggled tightly between my thighs. He drops his lower body, pressing against mine, hip to hip. He supports his upper body with his elbows, cupping my face with his fingers. "I've been a fool for you from the moment I laid eyes on you. For fourteen years, Sophie, I've been waiting to make a fool of myself. I love you. I love you so much". ~ Rafael Van Rees
Cecilia: I like the contrast in this one. One on hand Rafael says begging is for fools, then goes ahead begs. He shoves his pride aside and displays this vulnerable side of him.
~~
"Touch Sophie, or any friend of mine ever again, and I'll be in your face so fast. You think you know me, but you fucking don't. I'm the monster that lives under your bed, the fucking storm waiting to slam you to the ground. Got it?" ~ Rafael Van Rees
Cecilia: Rafael is. . .intense. The words show the extend he will go to protect the people he loves. If you're in his corner, you're safe.
~~
"Fuck my reputation. Fuck my career. No one's stupid enough to take me away from you, Butterfly. If you can't give me anything else, at least give me that–your faith that I'll keep myself alive for you. You won't lose me. I want this. Want you and me. Right now, I don't care about the future. It'll play out on its own as long as we hold it together. All I want is now." ~ Rafael Van Rees
Cecilia: This quote is a promise. Raw and intense. His life hasn't been easy, and he's not ready to lose the only girl he's ever loved.
~~~
"And another thing. I said I'd marry you. I intend to keep that promise, Sophie. The road ahead might be bumpy and imperfect. But our lives have never been perfect. When I walk through that door, that's what I'll be fighting for–a fucking imperfect, perfect life with you. ~ Rafael Van Rees
Cecilia: I love the honesty. There's no promise of a perfect life. It's the imperfect things that make life worth living.
~~~
A NEED SO INSATIABLE by Cecilia Robert
Genre: New Adult/Adult Contemporary Romance
"You've owned me from the moment I walked into that music room.You've wrapped yourself in my heart and mind. I can't get you out. I don't want to." ~ Rafael Van Rees

Sophie Fisher's life is on fire. If she's not ducking around corners or slipping out of windows to escape the debt collectors her father's death has left knocking on her door, she's dealing with her rebellious, fifteen-year-old sister, Lilli. And, as if that's not enough, Rafael Van Rees crashes into her life—literally—bringing with him a past the public has no idea of. Can she unravel his mysteries before he unravels her, or will his presence finally force her to face the demons she's trying to outrun?

Rafael Van Rees, maestro extraordinaire, prides himself on being in control of his destiny, music and women. As far as he is concerned, his past is a black cloud in the distance–until he meets Sophie, that is, and his world spins out of control in more ways than one. He knows the darkest sins and secrets eventually reveal themselves, but when it comes to Sophie, he'll stop at nothing to protect her from his past. Even if it kills him.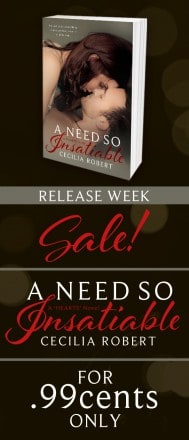 About the Author
Cecilia Robert writes YA, NA and Adult. My motto: Passion rules. I enjoy writing stories about people finding love in the most unexpected of places,and also about people finding their true purpose in life coupled with adventurous journeys, whether it's urban, fantasy, sci-fi, contemporary or paranormal romance. There's always a happy ever after, no matter how long it takes for the characters to get there.
Blog: http://cecereadandwrite.blogspot.co.at/
Facebook: https://www.facebook.com/CeciliaRobertBooksNAAdult
Twitter: https://twitter.com/Cece_Writes