I'm, once again, pleased to welcome Juliana Haygert to my blog today to give us a taste of her new novel, PLAYING PRETEND, out now! I revealed the cover for this not too long ago, and if you're looking for a fun and flirty New Adult novel, you should pick this up now. Only 99¢ for a few more days!
Welcome to the PLAYING PRETEND release event, organized by Grapevine Book Tours! Read an excerpt from this NA Contemporary Romance, and enter to win a gift card or eBook copy. Don't forget to visit the event page for a list of participating blogs with more excerpts and an author interview!
PLAYING PRETEND by Juliana Haygert
Publication: March 3rd, 2014
Genre: New Adult Contemporary Romance
Queue it on Goodreads: https://www.goodreads.com/book/show/18332287-playing-pretend
As the Governor's daughter, Charlotte McClain is an expert in playing pretend. High society, the men her mother shoves in her direction and a Pre-Law major are all a part of her perfect pretense. But when she pretends to be a nobody during Spring Break, she meets someone who rocks her world.

Mason Rowell knows heartbreak and Spring Break don't mesh well, so he allows the mysterious Charlotte to seduce him. What should have been a fling, results in something deeper. After Spring Break has long since passed, he moves to Washington to pursue his graduate degree, but what he never expected to find living among the rich and pompous, was the girl who gave him the strength to change and the desire to start anew.

When the guy Charlotte can't forget goes from a sensual memory to temptation in the flesh, her facade is put to the test. If she surrenders to his charms, she risks ruining her mother's perfect career and master plan. Playing pretend is what Charlotte does best, but how long can she pretend she doesn't love the man who made her proud of her true self?

**A light, sexy NA Contemporary Romance (17+)**
Available on:
Grab your copy today! From now until March 9th, PLAYING PRETEND is only 99 cents!
Excerpt
A knock on my window made me jump.
Mason stood outside my car, looking at me with a big smile.
My heart fluttered. That smile was for me. This handsome, hot man had come outside of Washington to meet me.
With a smile of my own, I opened my car door. As soon as I stepped out, Mason's arms wound around me and pulled me to him. He kissed me as if he hadn't seen me for an entire year, and I kissed him back the same way. His lips smoldered mine and I clung to his shoulders, teasing him with my tongue. He groaned, but didn't break the kiss. Instead, he pushed me back until I was pressed between my car and him, and deepened the kiss. Heat surged low in my belly as he adjusted his stance, gluing every inch of him to me.
"Get a room!"
Mason and I turned to where the voice came. An older couple exited Starbucks and watched us with reproaching eyes.
My face burned.
"They're just jealous," Mason said, stifling a laugh.
"There are children here." The man gestured toward a group of teenagers seated alongside a window, also watching us and giggling.
I smacked my hands on my cheeks as the couple disappeared inside their car.
Mason pulled my hands from my face and rested his forehead on mine. "Hi."
"Hi." I entwined my fingers with his. "How are you?"
"Better now." He brushed his lips on mine ever so gently; it took my breath away. I pulled away and he looked at me as if I had offended him. "What?"
"I … we can't keep this up." The heat in my body spread to my cheeks. "I'm gonna lose control if we do."
The corners of his lips tugged up. He leaned into me and breathed in my ear. "I love it when you lose control."
About the Author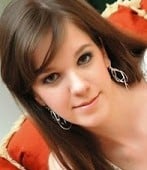 While Juliana Haygert dreams of being Wonder Woman, Buffy, or a blood elf shadow priest, she settles for the less exciting—but equally gratifying—life of a wife, mother, and author. Thousands of miles away from her former home in Brazil, she now resides in Connecticut and spends her days writing about kick-ass heroines and the heroes who drive them crazy.
Website: http://www.julianahaygert.com/
Goodreads: http://www.goodreads.com/author/show/6609948.Juliana_Haygert
Twitter: https://twitter.com/Juliana_Haygert
Facebook: http://www.facebook.com/juhaygert
Pinterest: http://pinterest.com/julianahaygert/